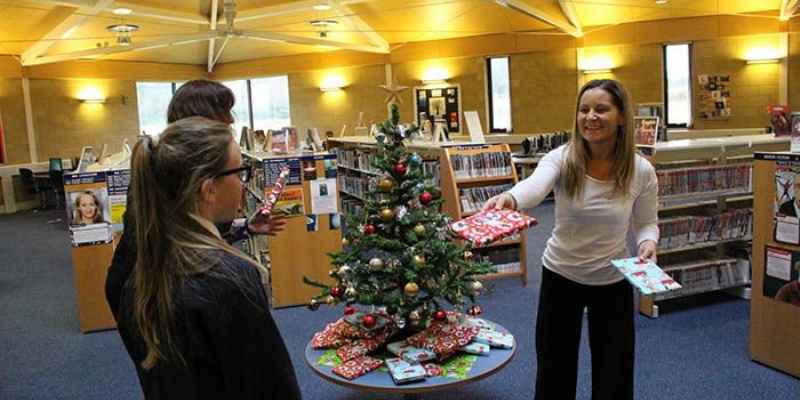 Students from Year 7 received a free book from the Library as part of the Bookbuzz programme. Over 180 books were wrapped by Sixth Formers Jennariece Robson, Louise Sharpe and Sasha Thompson and handed out to students during tutor time.
Bookbuzz is a reading programme from Book Trust, which supports schools to encourage reading for pleasure and develop a whole school reading culture.
The scheme, which has been running for several years at Brooke Weston was co-ordinated by Librarian Ms Wendy McCabe, she said 'Bookbuzz is a great programme because it introduces the students to different genres of books they might not have read before and as it's their choice they are more likely to enjoy reading the book and perhaps go on to read other books by the same author or in the same genre. It also helps to encourage a positive attitude towards reading.'
The 12 books were all selected by a panel of experts, including teachers and librarians and designed to appeal to all students, regardless of their reading level. Titles available this year included Eagle in the Snow by former Children's Laurete Michael Morpurgo, Costa Book Award winner The Lie Tree by Frances Hardinge and I am Malala by Malala Yousafzai, the youngest ever Nobel Prize laureate. The most popular book this year was 13 Hours a mystery thriller from author Narinder Dhami.
Anna Bredenkamp said 'It's really exciting when you receive a book as a present and I can't wait to start reading it. I chose my book because it is full of suspense which makes you want to find out more about it.'
Calum Wilcox said 'We decided which book we would like a few months ago, but we didn't know that we would receive the book wrapped up as a present, it makes it more exciting. I chose 13 Hours but there were a few books that I wanted, it was really hard to choose.'
In the New Year Ms McCabe will be launching a competition for the Year 7 students to write a review on their chosen title and be in with a chance of winning the other selection of 11 books. All this year's Bookbuzz titles are available to borrow from the Library.