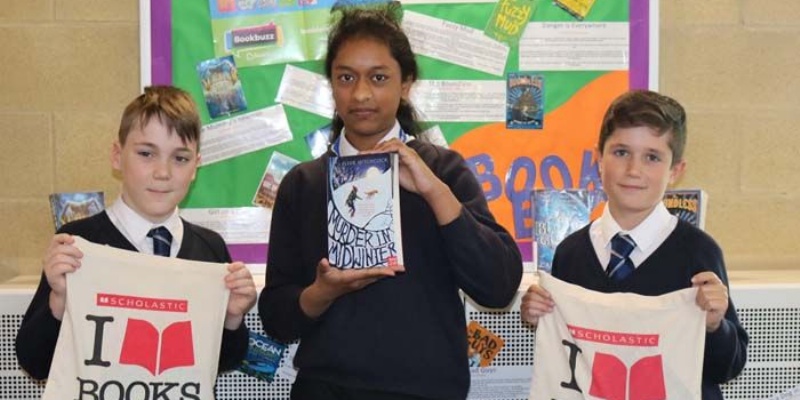 Well done to Year 7 student Nirupikaa Jeevanantha who won first prize for her compelling book review, in a competition that attracted more than 130 entries.
Year 7 students were invited to submit reviews for books they had received from the Bookbuzz scheme.
The campaign, run by the Book Trust, encourages reading for pleasure and helps to develop a whole-school reading culture. Our Year 7 students choose a free book and received theirs, wrapped up in time for Christmas.
Nirupikaa won all the other 11 Bookbuzz books after submitting her winning review of Murder in Midwinter by Fleur Hitchcock. Congratulations also to runners-up Luca D'Rienzo and Kallin Bannister who won goody bags, with their reviews of David O'Doherty's Danger is Everywhere and S.C.R.E.A.M. by Andrew Beasley respectively.
Nirupikaa said: 'It was the first time I had written a book review and I enjoyed it. I liked the mystery of the story and like reading all types of books.'
Kallin said: 'My book was about two children working on a mission to solve the mystery of how a mummy came to life. I found reading the book fun and I am re-reading it so much because I enjoyed it so much. I liked getting into the characters.'
Luca said: 'My book was lots of silly examples about things that wouldn't happen in real life but that could be dangerous. We had a lot of tips from our teaching on writing the reviews.'
Literacy co-ordinator Lauren Fitzjohn said: 'Last term English teachers would remind and prompt students to talk about their texts and do mini feedbacks in order to keep the pace. For some it was the first time they had finished a lengthy book with the incentive to enter the competition so, for some, it was a real achievement and they were very proud handing in their book reviews.
'Wendy and I offered advice with how they could create intrigue and discuss the element that most interested them. The biggest hurdle was getting them not to reveal too much. You need to show and not tell and that was a tricky balance but an important skill.'
Librarian Wendy McCabe said: 'I was extremely impressed with the standard of the reviews and the number of students who entered the competition. It was a tough job choosing the winner but Nirupikaa gave an honest and balanced review without giving away any of the plot twists which is very important when writing reviews.'