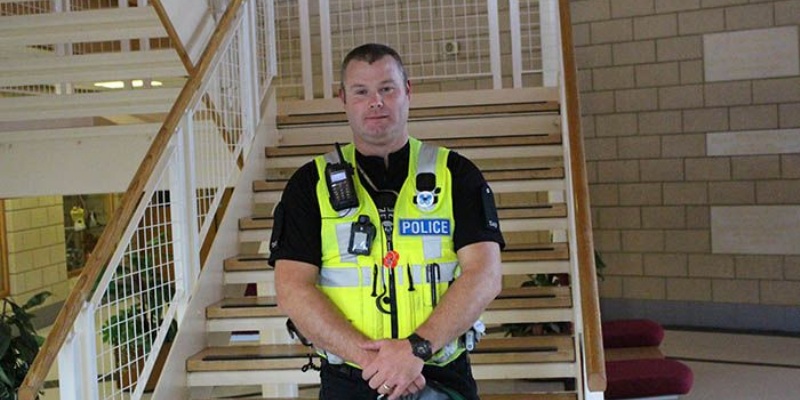 Police Constable Mark Walsh has recently been appointed as the new School Liaison and Early Interventions Officer for Brooke Weston Academy. Originally from Corby, Mark left school at 16 and joined the Army as a Royal Engineer, where he served for 15 and a half years only leaving to start a family. He has worked for 11 years as a police constable on the response team, where he was recently awarded Northamptonshire Police Officer of the year 2016 for his bravery, hard work and dedication to the role. As well as volunteering for this new role Mark also mentors the emergency service and special constabulary cadets, is a driver and medic on the riot team is CBRN trained, which means he can deal with any hazardous incidents as well as his day to day job of investigating crimes.
You sound extremely busy, what made you want to volunteer for this role?
'As a police officer you are expected to have multi skills. I throw everything into my job and I love it. I have seen both sides of the job and it can be tough at times, but the good times by far out weigh the low times. I wanted to volunteer as after 11 years on the response team I needed a new challenge and I'm really keen to make it a success. If I can deter a few students away from crime then I've done my job. If there is an emerging issue and I can go into a class and talk to them about how people's lives are affected and that stops something from happening then fantastic as it's not just the person affected by crime it's their families as well.'
What does your new role entail?
'I work with Brooke Weston and four other local schools to help prevent any crimes before they become an issue. The schools and I work together as a partnership to manage the problem and help divert students away from the path they are currently on. I deal with all sorts of crimes within schools as well as people who are targeting school children.'
What do you plan to bring to the role?
'A Police Community Support Officer previously looked after this role and there is a big difference in the way we can both deal with crimes. A PCSO has to pass on any information they receive where as I deal with it from start to finish, meaning there are less delays. You can expect to see me around the school a lot more. Over time I want to become a familiar face within the Academy where the students know me as Mark and I can establish a trust with them. I hope that they will be confident enough to speak to me about any problems, which I will deal with as quickly and as low level as I can.'
What is your proudest moment in your career?
'My proudest moment is becoming a dad, however, whilst I was in the Army I won a Joint Commander's Commendation for removing 850kg of explosives from a bridge in Iraq whilst being fired at by the enemy, all of which has been recorded in a book called the Foreign Fields. Receiving that award was the pinnacle of my Army career, I felt extremely honoured and privileged. I have been lucky enough to win a number of awards throughout my career, but it's not about winning awards, it's about credibility in front of your peers. I work with a fantastic team of officers in Corby and what I do is only a small reflection of what the team achieves together on a daily basis.'
Do you ever get scared?
'Yes all the time it's the human reaction to be scared and completely normal but you use your training and skills to overcome the fear which is the reason why you become a PC to take charge and turn a negative into a positive. If you stand by and ignore a situation then why did you become an Officer in the first place?'
Which do you prefer, the Army or Police?
'When I was at school I gave up, my exam results weren't good and I joined the army four days after my 16th birthday, which I wouldn't recommended to anyone else as it was just too young but it was all I wanted to do. The key difference between the Police and Army is that in the Police you use your skills in your job everyday whereas in the Army you train most of your life to use them only once or twice. I achieved so much in the Army, I got to travel the world and I had a family amongst the other soldiers. When I started a family of my own it was time to move on to be able to achieve a greater work/life balance as I was missing my son growing up'
And finally, what do you do in your spare time?
'I really enjoy socialising; eating out and going to the pub. I take my son to the cinema and help him with the Air Cadets, but to be honest the Police takes up a lot of my time. As a Policeman you are never really off duty, I throw everything into my job and love it that way and will be doing exactly the same in my new role as Liaison and Early Interventions Officer.'