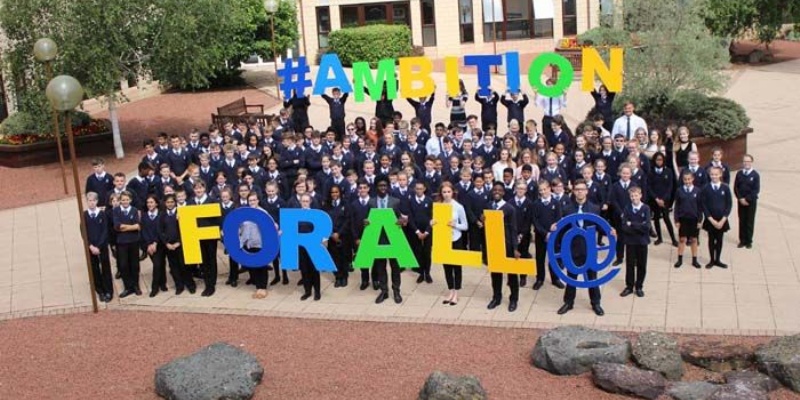 Brooke Weston Academy is the torchbearer for the Trust's Ambition for All campaign this month with events that include fundraising, encouraging the young engineers and teachers of the future and a Carnegie shadowing event with 70 students and staff from Trust and local schools taking part.
DT teacher Gareth Van Wyk will be undertaking fundraising activities to raise money for his former school in South Africa and will be travelling there this summer to present the Principal with a cheque that will be used to enhance students' learning over there.
The Brooke Weston Teaching School is running a three-day course aimed at Year 12 students who want to learn more about teaching and routes into the profession. The 12 students, from Brooke Weston Academy and Kettering Science Academy, visited Kingsley Special School in Kettering and will have further fact-finding trips to Beanfield Primary Academy and Brooke Weston Academy for lesson observations and to learn more about career opportunities as well as being able to talk with newly qualified and experienced teachers.
Year 9 students will take part in a STEM engineering workshop looking at potential career opportunities for tomorrow's engineers. There will be design challenges that will test their ingenuity and broaden their knowledge about the engineering sector, as well as allowing them to have fun.
The science department will be hosting a GCSE science hub for teachers from across the region and our Year 10 Science Ambassadors will be visiting primary schools to talk about the solar system and set up three different experiments with students.
The art department is judging Year 7 artwork and the winning top three winning entries will be displayed in the restaurant alongside the existing GCSE and A Level artwork. The department also does a Golden Ticket club after school on Thursdays where two selected Year 7 students from each class have the opportunity to use different techniques and media. This Thursday boys will be creating wire sculptures and mobiles.
Brooke Weston Academy is also hosting the annual CILIP Carnegie and Kate Greenaway shadowing event with students from across the Trust secondary schools as well as from Beanfield Primary and Woodnewton – A Learning Community. Each student will be able to talk about their favourite titles in this year's scheme and will take part in competitions and fun activities.
Brooke Weston Principal Pete Kirkbride said: 'Being the Ambition for All torchbearers this month gives us a wonderful opportunity to showcase all the innovative and amazing work going on in the school, not just in separate departments, but also corporately. These activities show that we want to make a real difference to our students, our community and activities are being planned which should also have a positive impact abroad as well.'