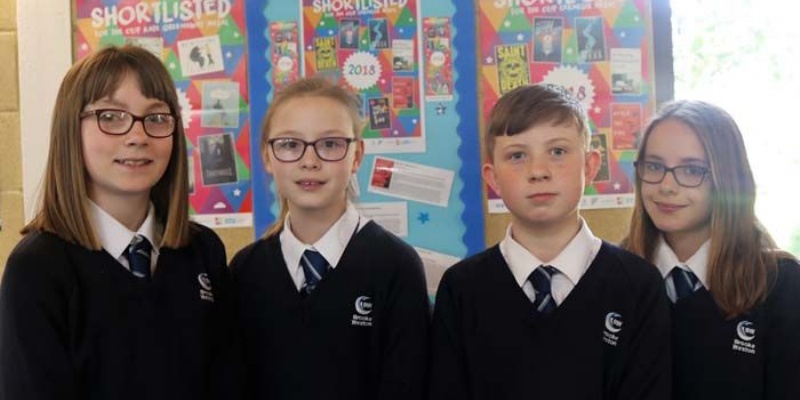 Students from Brooke Weston Academy are shadowing the Carnegie and Greenaway book awards, reading and comparing the 15 shortlisted titles and taking part in an event with other schools in June.
The CILIP Carnegie and Kate Greenaway Medals are the UK's oldest and most prestigious children's book awards and are judged solely by Librarians. Often described by authors and illustrators as 'the one they want to win' - they are the gold standard in children's literature. The CILIP Carnegie Medal is awarded for an outstanding book for children and young adults and there are eight titles shortlisted this year. The CILIP Kate Greenaway Medal is awarded for an outstanding book in terms of illustration for children and young adults and there are seven contenders. The winner in each category will be announced in a live awards ceremony in London on Monday 18 June.
Each year students at Brooke Weston Academy 'shadow' the awards, meeting regularly to read, discuss and write reviews. Student Eliza Donnelly from Year 8 said: 'I have read the Hate U Give, Where the World Ends and After the Fire, which I have enjoyed the most because it has quite an interesting storyline and it keeps you in suspense. The shadowing has introduced me to new books and new authors. We discuss the books but try not to spoil the plots if people still haven't read them!'
Matty Smith from Year 7 said: 'I joined because I like reading, particularly horror. My favourite for the Carnegie has been The Hate U Give.' Keira Hazelwood said: 'My sister joined the book club first and she said it was really good. I have read Wed Wabbit, Where the World Ends and Beyond the Bright Sea and I am looking forward to the Carnegie event.' Charlotte Fletcher said: 'The best thing about book club is being with people who love reading. There wasn't one in my primary school so when I joined here I really liked it.'
On Friday 15 June more than 70 students from Trust and local primary and secondary schools will visit Brooke Weston Academy to take part in group discussions, a quiz, book pushing and voting for their favourite on the shortlist. True stories and current issues have inspired many of the titles this year and, if Patrick Ness will be the first author to win a Carnegie Medal hat-trick if his book, Release, wins the award this year.
Librarian Wendy McCabe said: 'The book shadowing scheme is a fantastic way to introduce students to new books they otherwise might not read. Being able to discuss them with other students makes them think more about the books and helps to develop their confidence and communication skills. By shadowing the awards the students feel like they are part of the judging process and it's always interesting to see if our favourites match up with the official winners of the awards. I have read three of the Carnegie shortlisted titles and my favourite so far is The Hate U Give by debut author Angie Thomas, which is inspired by the Black Lives Matter campaign. This book is also highly recommended by English teacher Miss Dunmore who has been telling all of her students to read it!'