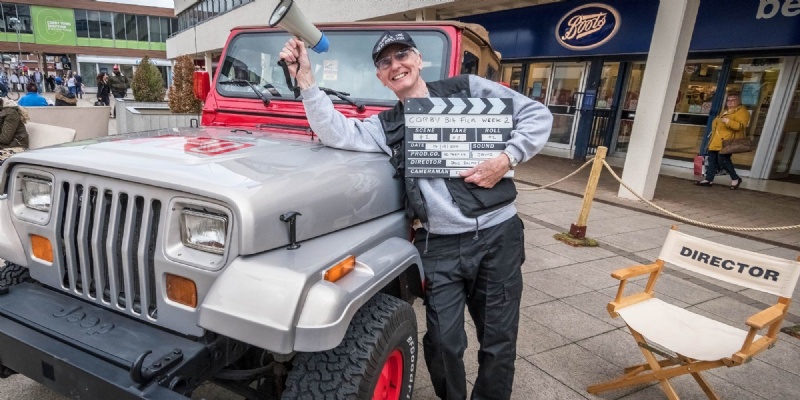 Paul Balmer, a BAFTA nominated film maker, is delivering the film production strand of the BRIT Kids Saturday classes at Corby Business Academy.
Paul, who is also a guitar teacher at Brooke Weston Academy, has an extensive background in radio, television and film production. He has a passion for teaching young people 'how to tell their own stories' as well as running his own media company which trains young people.
Paul is teaching his BRIT Kids students the basics of film-making, showing them different camera angles and building up their knowledge so that they will learn how to construct increasingly complex advertisements and films as the course progresses.
He said: 'We talked about the students' favourite film genres and went through some basic shots, including a long shot, mid shot, close up high angle and we got to do a tilt down and a pan left and right, building up a basic vocabulary. We have also done a storyboard, planning their first little three shot commercial.'
Paul was nominated for a BAFTA after producing the highly-acclaimed 'Stéphane Grappelli - a life in the Jazz Century' – distributed by Universal. It was just one of three music documentaries shortlisted for a BAFTA in 2002, and narrowly missed out to a Hollywood film. Paul says: 'I spent most of my life working in television and radio. Going to the BAFTA ceremony was the proudest moment of my life. I followed that up with a film about Julian Bream, the great classical guitarist, which was voted DVD of the Year in 2006.'
Paul was introduced to film-making after playing guitar at Liverpool's Philharmonic Hall and appearing on television four times before he had left school. That gave him an insight into life behind the lens, and he joined the BBC as an apprentice: 'I was making the tea and watching some of the greatest directors in the world. I started out as a sound engineer, then I became a cameraman. I did some lighting and writing for television and trained at Elstree as a director. I left the BBC in 1990, went independent and spent the next 25 years making programmes for Channel 4, the BBC and CBC in Canada. It was a great adventure. I briefly taught at the School of Film in London and I have a media training company in Corby, HD Media, teaching young people to make films.
'Film-making is a great way to tell positive stories about a person or location. For instance in Corby we have been looking at things like Adrenaline Alley or re-telling the story of PLUTO (The Pipeline Under the Ocean) where pipes from Corby supplied the fuel for D-Day craft. That story is not very well known so I took 40 young people to film where the pipes, that supplied fuel to Cherbourg, are still in existence on a beach on the Isle of Wight. It got onto BBC as part of Inside Out. When young people do things like that it is about building self-esteem and belief in themselves. The BRIT Kids programme follows the same ethos. If you have got the talent then film making can enable you to do anything. Getting young people to do audacious things and dream big is very exciting.'