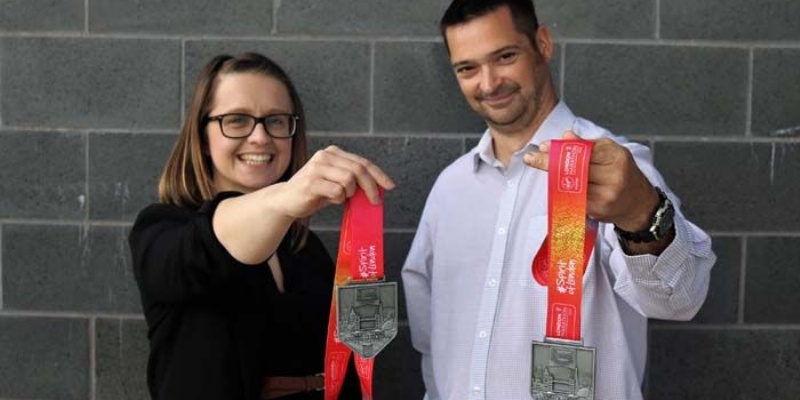 Congratulations to Brooke Weston Academy's groundsman, Paul Twamley and Louise Chapman, a teacher from Corby Businesss Academy, who both finished the London Marathon and exceeded their fundraising totals after spending months training and preparing for the event.
It was Louise's first ever marathon and, a year ago, she hadn't even run a step! For Paul it was his second London Marathon and he beat his previous time, despite the sweltering heat on the day.
Paul has raised £2,700 for the Teenage Cancer Trust and is hoping to top the £3,000 mark while Louise's £2,100 donation for Asthma UK has comfortably exceeded her £1,800 target with two more fundraising bake sales to go. Paul completed the race in five hours 55 minutes, and Louise came in just behind in a time of six hours and nine minutes.
Paul said: 'Halfway through the temperature had risen and my knees were really painful by the 14-mile-mark. My family saw me half way, just after Tower Bridge and the running app was really accurate so they knew exactly where I was. The course then looped around Docklands for another nine miles and returned to the exact same place so it was a bit dispiriting seeing runners coming towards you knowing they had completed nine miles more than you!
'When I got to the last three miles there were thousands of people still in the crowd and they would cheer you on which really helped. I kept my head down and focused on each mile. I didn't think about the distances or keeping up with other people. I found it hardest at 22 miles with just over four miles to go, which is only a lap and a half around Oakley Vale. It doesn't seem that much, but when you are at the 200yd mark near Buckingham Palace it's amazing that finish line doesn't seem to get any closer when you are running towards it!
Louise said: 'I watched last year's marathon on the TV and said I wanted to do it one day. The next day I contacted charities and thought they would all say no but Asthma UK replied straight away to say they'd love to have me on the team. This time last year I couldn't run from one lamppost to another! I left it until the summer holidays and thought I had better start doing something. I started running between two and five kilometres and, in October joined 'She Can Run' in Kettering and they wrote me a training plan, supported me the whole way through and got me to where I am now.
'I started the process just to run a marathon with the intention of giving up once I had done it, but now I am really enjoying running and I am going to carry on and maybe do a half marathon later this summer. The race went really quickly up until mile 20. I had friends at various points so they did boost you but miles 20 to 23 were really tough. The last 800 yards seemed to take forever, it felt like the finish was getting further away. I didn't get the time I wanted but it was too hot, I couldn't push myself any further. I am not sure if I want to run it again next year as it takes such a massive amount of your time to train for it. When I came back to school my tutor group were really supportive and burst into applause!'