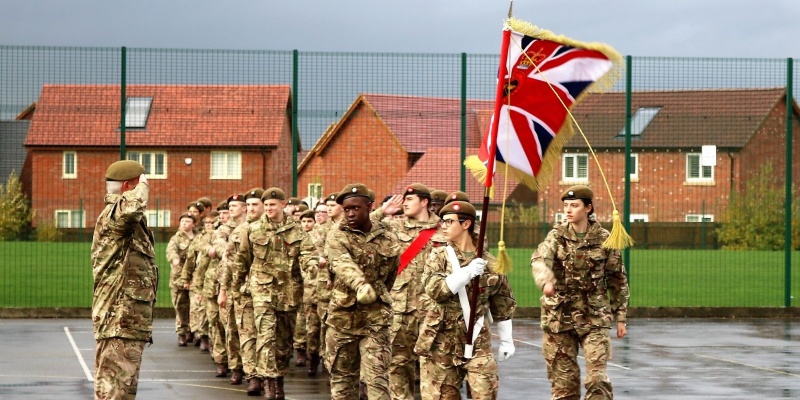 Well done to all of our CCF cadets who took part in the Brooke Weston Trust's Annual Remembrance Parade and Beret Presentation Ceremony and congratulations to those who received awards and promotions. One of our students, Acting Cpl Tate Eppey, received the Best First Year Cadet award.
The Trust Remembrance Parade and Beret Presentation Ceremony, at Corby Business Academy, was watched by parents, our Trust CEO, Principals and senior leaders from our secondary academies. The Banner of the CCF was paraded and the cadets formed up in ceremonial parade order before the wreath was placed and the Banner lowered to mark the start of a two-minute silence.
Contingent Commander Capt Matt Isherwood invited Angela Reynolds Principal at Corby Technical School to present promotions to cadets moving up the ranks while Simon Underwood, Head of School at CBA, presented the newest recruits with their berets and half and full stars, which signify they have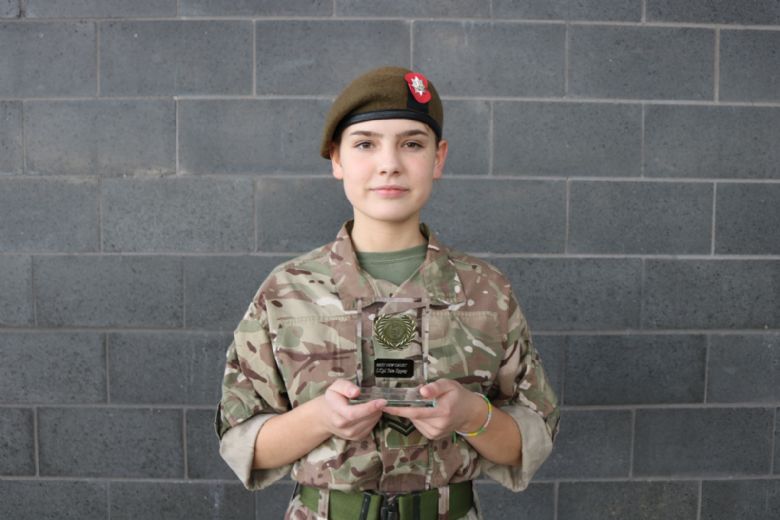 completed the basic Army proficiency course.
Following the presentations and drill, the contingent rounded off the afternoon's proceeding with a march-past and salute.
The Waterloo Shield for Endeavour was awarded to LCpl Jack Chisholm from Corby Technical School.
The Best First Year Cadet award was presented to Acting Cpl Tate Eppey from BWA. Capt Isherwood said: 'She has taken on additional duties and helped members of staff out on numerous occasions.'
The Best Overall Cadet award was awarded to Cpl Tinashe Ruzane from Corby Technical School.
The final award was the Infantry Cup which is given to the best military performer in the field and was awarded to Sgt Cook from Kettering Science Academy.
Afterwards Acting Cpl Eppey said: 'I am really shocked about winning the Best New Cadet Award but I am really happy. I have learned a lot in cadets about fieldcraft but the most important part has been the teamwork element and helping people work together. I love cadets so much and am trying to get the most out of the experience that I possibly can as I want to go into the RAF when I am older.'
Congratulations to our BWA cadets who received the following promotions:
To LCpl: Cdt Newell, Cdt Oram, Cdt Peterson, Cdt Simcoe and Cdt Sulch.
To Acting Cpl: Cdt Eppey