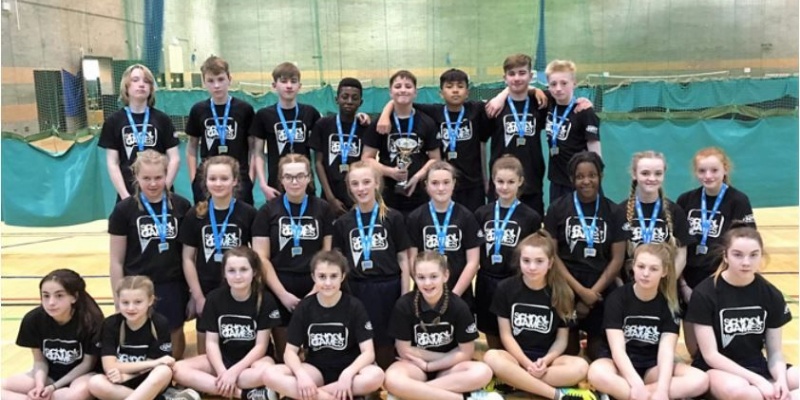 Congratulations to three of our sports teams who all won gold medals in recent tournaments. The Year 7/8 Dodgeball, Y9/10 Handball and Y8/9 Futsal teams all stormed to victory in hard fought contests, winning the top spots in each competition.
Dodgeball
There were five Dodgeball games, each lasting for two minutes. The winners were those with the most players left at the end or if the other team had all their players eliminated.
In the boys tournament our teams were pitched
against Bishop Stopford, Ferrers, Campion and Wootton Park. Out team raced into a 4-1 win against Bishop, but had a setback in their second game against Ferrers meant that they lost 3-2. They then beat Campion and Wootton Park with two 3-2 scorelines to qualify second in the group, moving into the semi final against Moulton, the top team in the other group who hadn't lost a game.
Teacher Ash Narwal said: 'The boys peaked at exactly the right time and played some outstanding dodgeball winning 5-0. They then played the final against group rivals Ferrers who they had previously lost to. The game was played in front of all the others schools and they even had the England national dodgeball coach watching on. They raced to a 2-1 lead with just one game left to take gold. Agonisingly, with the players even, in the last second Brooke Weston Academy managed to eliminate a player but the whistle had already gone for full time. The game went into a decider and with seconds remaining, Seb Fargnoli caught a ball eliminating one opposition, then throwing a ball to eliminate another taking gold home for Brooke Weston!'
In the girls' Dodgeball competition the girls stormed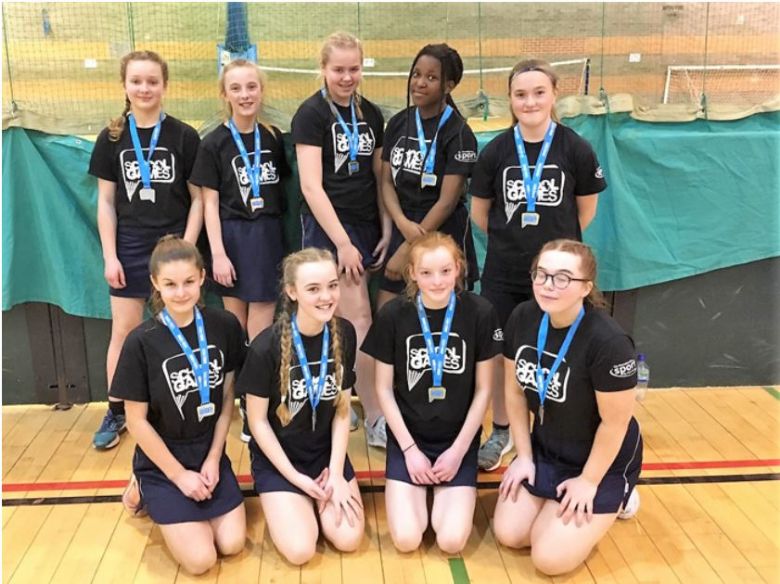 through their group winning every single game. They had won silver last year so they were an experienced and confident side. They played Bishop Stopford in the semi finals and did not disappoint winning 5-0. They then had to face off against Moulton in the final. With a hard fought game the girls sadly could not take gold losing 4-1 to an excellent Moulton team.
Year 9/10 Handball:
In the boys tournament it was the first time the team had ever played a handball game and they were drawn against Bishop Stopford, Thomas Becket, Wollaston and Ferrers.
They won their first game 3-2 against Wollaston and then beat Thomas Becket 5-2. They than faced a fantastic team from Bishop Stopford and drew 3-3 in a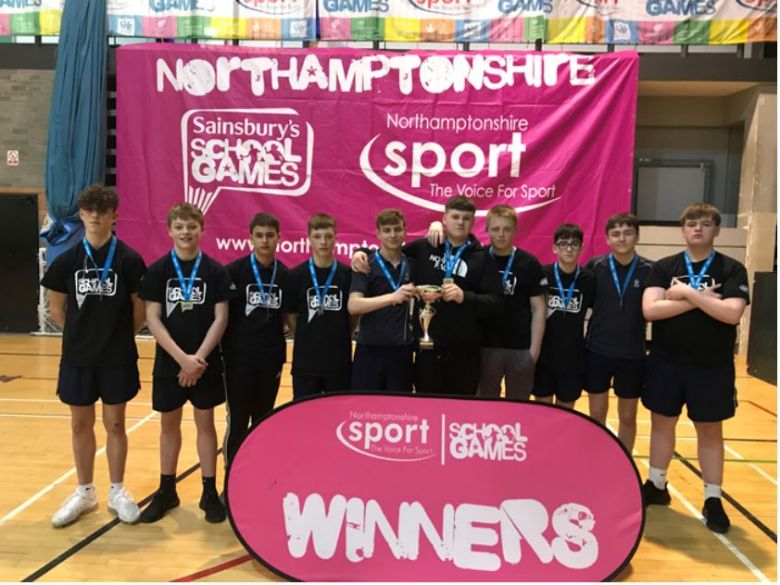 nailbiting game, going on to play Ferrers, who battled extremely hard, but Brooke Weston Academy managed to score with the last throw of the game and won 5-4.
Our team then played Bishop Stopford in the final which did not disappoint. After full-time the score was 4-4. The game then went into five minutes of extra time. This was not enough to separate to two sides with it finishing 5-5. The tournament then went to a penalty shoot-out. Goals from Year 9 student Mason Donnelly and Year 10 student Harrison Pullen along with two fine saves from keeper Eddie Phillips were enough for Brooke Weston to take home gold.
In the girls' tournament the team consisted of all Year 9 pupils so they were playing against players a year older than themselves. The girls were superb and won every game in their group. They then met Wollaston in the final. The game was extremely tight with a 1-1 scoreline. With 10 seconds remaining Wollaston broke down the Brooke Weston defence and scored to take home gold. Despite the girls being disappointed they should be extremely proud of their achievements and can hopefully take home gold next year.
Year 8/9 Girls Futsal:
This was a group stage format so the top three teams would take gold, silver and bronze. The girls played some outstanding football winning all of their games. They came up against a fantastic Wootton Park team. The game was extremely tight, at 2-2 until Brooke Weston struck the bar in the last 30 seconds. Wootton then scored with just three seconds left of play leaving Brooke Weston Academy with a silver medal.
PE teacher Ash Narwal said: 'We as a department could not be prouder of our students. Not only did they perform to an extremely high level, they represented the school fantastically with their behaviour and attitude. We had a goal at the start of the week to try and win one gold medal but to win three along with two silvers is an incredible achievement especially as Brooke Weston Academy has not won a gold medal in years! A massive thanks to the organisers who worked tireless throughout the week and they created such fantastic tournaments for all of the students involved.'