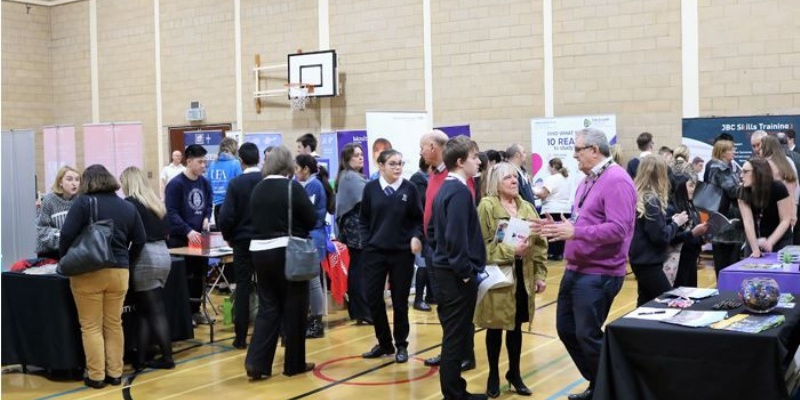 Brooke Weston Academy's largest ever careers fair was a huge success, attracting hundreds of students and exhibitors from home and abroad.
The event was organised by Jonathan Browne, Head of Work Related Learning & Industry Relationships and Careers Lead Clare Scott. One exhibitor came from Spain while others were from across the UK including as far afield as Aberystwyth and Newcastle.
More than 200 students and their parents came along to tour the stands and find out about possible future pathways. Trust CEO Dr Andrew Campbell also paid a visit to the event, which took place in the Sports Hall at Brooke Weston Academy.
Afterwards Mr Browne said: 'We would like to pass on a huge thank you to all those who helped and supported us in organising the Careers Fair. We had a wide variety of visitors including industry professions, over half a dozen Higher and Further Education providers including local ones such as Moulton, Tresham, Northampton Leicester and Coventry Universities. Several Russell Group universities attended including Loughborough, Lincoln, Leeds and Nottingham.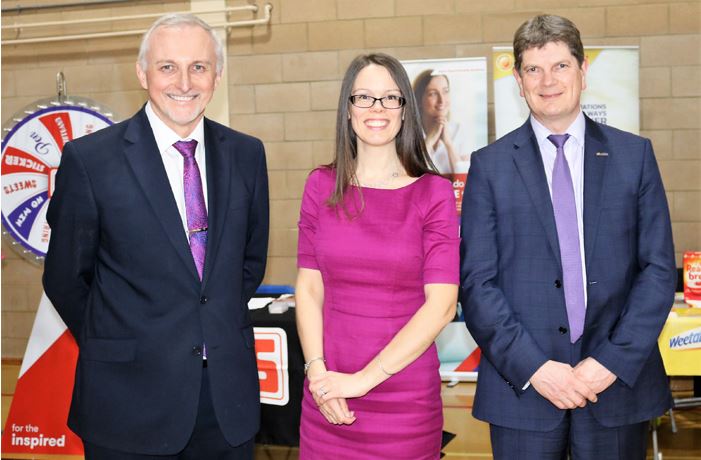 'There were also gap year specialists including A+ Academy (which is based on a tall ship and sails around the world visiting 20 destinations) Projects Abroad and Global Vision. These really expanded the opportunities available to those students who are considering taking a constructive and rewarding gap year, prior to university.
'Brooke Weston Academy has already forged strong work-related learning links with RS Components and their stand was particularly busy with students wanting to apply for several live apprenticeship places. Alongside them were Weetabix. Morrisons and Barclaycard, who are all offering extremely lucrative and rewarding apprenticeship opportunities across a broad range of specialisms and career sectors.
'Several of the exhibitors included former Brooke Weston students, such as Emily Davis, who studied mechanical engineering and has travelled all over the world working on prestigious projects which include the London Cross Rail project; one of the largest civil engineering projects in the country. She will shortly come back and do a presentation aimed at getting more female students seeking careers in STEM based industries.
' This event illustrated how our careers provision aims to empower all students, parents and employers to make confident, impartial and informed choices about future career options and requirements. Regardless of background, events like this will have hopefully provided purpose, direction and opportunities to all our disadvantaged and high ability students, enabling them to flourish as individuals, become highly employable and achieve personal and economic wellbeing throughout their lives.'