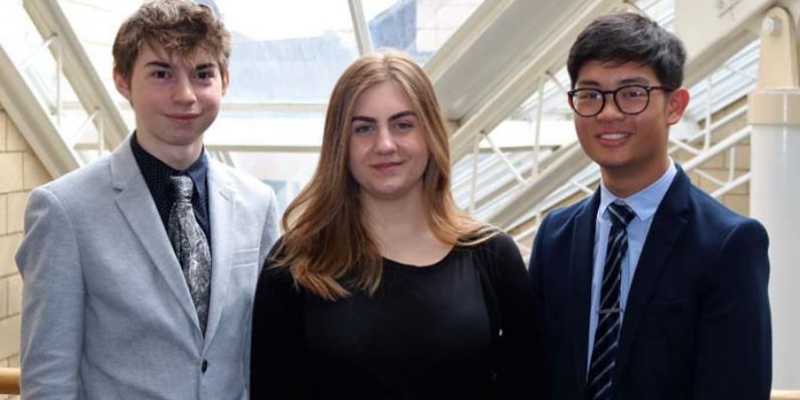 Several of our Sixth Formers have been accepted onto summer schools with the Universities of Cambridge, Oxford and other top higher education providers.
They have either applied via the Sutton Trust or the Uniq programme, which offers week-long university taster courses with accommodation, food and lectures included.
Year 12 student Maja Raczkowska has already attended a Uniq course at the University of Oxford, while Nathan Ngo, Oliver Steel, Grace Kavanagh and Alexandra Clarke have been accepted onto similar courses later this summer.
Maja, who is studying literature, business and psychology, attended an English literature course. She said: 'Everyone was really nice and they told me about applying to Oxford and did an interview with me that was really helpful. It was daunting at first but nice to meet people who are passionate about the same things. We had lectures, seminars and a tutorial. They helped us with essay writing and gave us lots of resources from the library as well.
'It was a really hard to get in as 6,000 people applied for the course which only had 1,000 places so they say it is harder to get onto a Uniq course than into Oxford University itself! I would definitely recommend it to other students. It has definitely helped my confidence and given me an insight into university.'
Oliver Steel, who is studying maths, computer science and business studies, has also been awarded a place to study economics and management at the University of Oxford. He said: 'I am really interested in what going to university is actually like. When I was in Year 6 I set my target on a career in investment banking or financial services. Everything I have done since then has been with that end point in mind.'
Nathan Ngo successfully got onto a biological science at the University of Nottingham via the Sutton Trust. He is studying maths, chemistry and biology at A Level. He said: 'I heard about these summer schools from a friend in Year 13 who told me about her Uniq experience. The course involves biochemistry, food science and basically everything to do with biology. If I go on this course and then go to the University of Nottingham I get a bursary of £1,000 for each year I go, so that is a bonus. I am looking forward to meeting new people and getting a taste of student life.'
Well done also to Sixth Formers Grace Kavanagh and Alexandra Clarke who have both been accepted to do a psychological and behavioural sciences course with the University of Cambridge in August.
Teacher Louise Hegarty, who co-ordinates the IEC programme and helps students with their extended project qualifications said: 'Universities consider candidates on the basis of what they have done to stand out from their peers. Having won places on these courses means that our students can apply from a really strong position. It is a great opportunity and they will be able to get a glimpse of university life and make an informed decision about their applications in the future.'