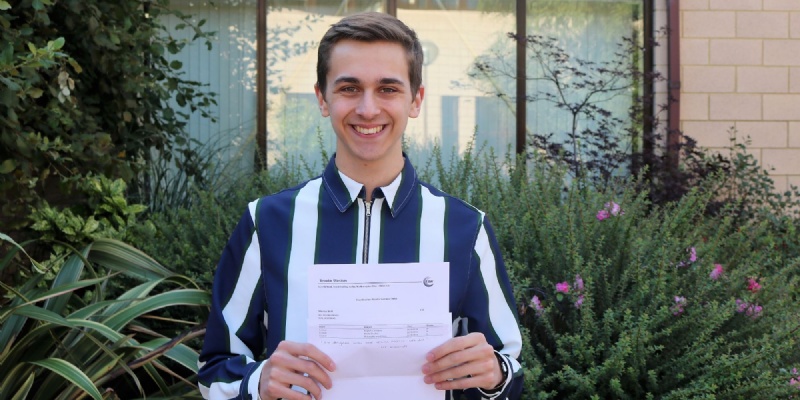 Two talented Brooke Weston students are off to study film and television production after gaining A* and A grades at A Level.
Jack Lewin and Marcus Britt have a keen interest in film and worked together to produce the Academy's Review of the Year video.
Marcus (pictured top) is celebrating his A* in English Literature and As in Media Studies and Philosophy and Ethics. He is going on to study film production and digital media at Royal Holloway.
He said: 'I worked day in, day out non-stop which is the key to it. I was going through a lot during the exam period and learned that the time before the exam, when you get to collect yourself, is more important than anything else. That is the moment when it will determine how well you do.
'Film has been the constant love of my life ever since I was a child and I want to give back what I have taken in. I am a horror fan. A good horror film can uplift you and brighten your day because, in my eyes, it makes the world an easier place.'
Jack achieved an A* in Geography and As in Spanish and Media Studies. He will be studying Television and Radio at Salford University. He has previous film experience as he gained recognition for short films he made of Coronation Street storylines using a set made of Lego. Producers at Coronation Street heard about it and offered him work experience on the iconic soap opera.
Jack (pictured below): said: 'The degree course is based in Media City which is the hub of broadcasting for the north of England. It is also where they film Coronation Street so I am familiar with that area. In the first year the course is split into two halves and you can specialise as the course progresses.
'I did get offers from other universities but the location of Salford swung it for me because you are in the centre of the business with good industry links. I'd like to go into TV production eventually and feel the course will give me the breadth of different processes. When I was doing work experience on Coronation Street I was shadowing one of the directors and really enjoyed that because you get to go on to the set and talk to the actors, and also go behind the scenes, so as director you get to see a few aspects of the show.'