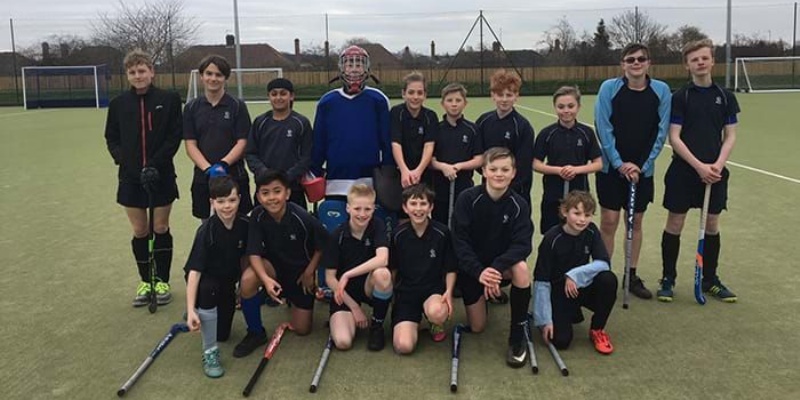 Students in Years 7 and 8 attended their first boys hockey match against Bishop Stopford giving them invaluable experience of playing together as a team.
The team have been participating in weekly coaching lessons with a professional from Kettering Hockey club, which has seen a huge increase in the amount of students wanting to take part in the sport. They were also lucky enough to have four Year 11 students who are also members of Kettering Hockey Club support and encourage them as they entered their first game.
The boys were split into two teams With Dominik Cusk and Thomas Casey guiding one team and Toby Mander and Daniel Carter helping the other. Mackenzie Riordan stepped up and offered to go in goal, having never played in goal before and did an excellent job saving many goals.
The boys battled hard throughout both of the 20 minute games and certainly didn't look like teams that were playing their first ever hockey games. All of the boys had to pick up rules as they were playing, but as the games progressed the skill level also improved and the boys became more and more confident. The overall results were two draws, a win and a loss, but taking part and enjoying their first hockey game was priority.
PE teachers Miss Barber and Mr Narwal said, 'It was a very proud moment to watch the Year 7 boys working closely with the Year 11 students. Every one of them battled hard for 40 minutes and although it wasn't a high scoring game the boys certainly developed and we can only hope that this continues for the rest of the term for them and others who couldn't attend this match.'