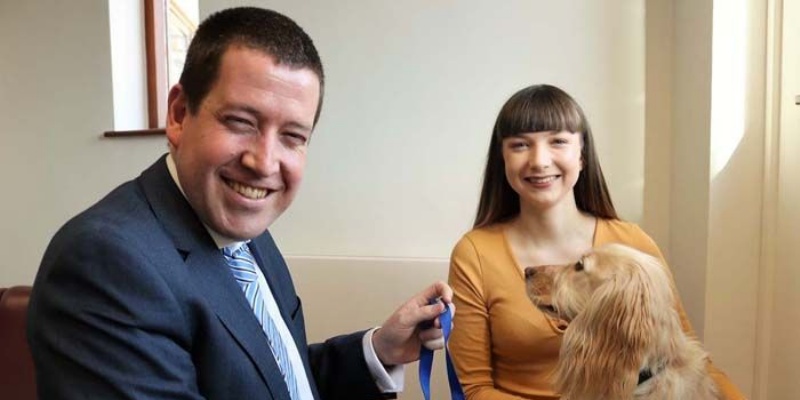 Champion dog Archie was made an honorary student at Brooke Weston Academy after winning the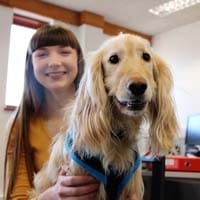 Junior Agility Dog of the Year title at Crufts. His handler, Sixth Former Katie Lines, brought him to school where he received an official identity card, complete with his name and picture, plus a school tie!
Archie, a working cocker, is only in his third year of competing with Katie, who started doing agility in 2012. She and Archie had to qualify to compete at Crufts and were placed third in the semi-final, meaning they got through to the televised final in the main arena. The event involves dogs negotiating an unknown course led only by their owner giving voice and hand commands. Dogs must make contact with certain parts of the obstacles and if they go the wrong way or hesitate they are penalised. Contestants are only allowed one attempt at the course and so the stakes are very high.
Katie said: 'I had five minutes to walk the course on the day and I memorised it so I could give instructions to Archie. We had to complete our course, go over jumps and ramps, in and out of weaves and you only have one chance to be successful. For the final round I went in with a really positive mind set and thought we will just do our best. It was the first time I ever got into the main 2,000 seat arena so to win was amazing. Archie has never let me down and it's been an amazing journey.'
Archie and Katie completed the course perfectly in 39 seconds, with a good three second lead on the second placed contestants. Afterwards Katie was interviewed on television by presenters Clare Balding and Alan Carr. 'Alan really liked Archie and Clare was a lovely person. It took a good week to really sink in that we had won. I was on cloud nine and this has definitely been the highlight of my agility career so far.'
Katie started going to agility classes in 2012 with her older dog Kilo, and she trains her dogs at Barking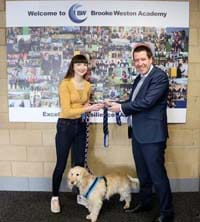 Mad, based in Pytchley: 'They were really proud. On the Wednesday after Crufts when I walked into the barn they all clapped and made a real fuss! There are quite a lot of cocker spaniels in agility because they are fast and they are really bright dogs so I have done a lot of clicker training with him. If someone wants to get into agility I would advise them to get in touch with the Young Kennel Club as dogs need to be registered, although they don't need to be pure-bred to compete and anyone can do it.'
Katie and Archie are next representing Team GB at an event in Holland this summer where they will compete with teams from across the world, including USA and Russia. She said: 'The reason why I am so successful in agility is that I have spent so many years just doing obedience with Archie from when he was a puppy, so he is such a well behaved dog. They are usually about eight or nine years old when they retire so he is still a baby really as he is only four.'
Principal Pete Kirkbride said: 'I am so proud of Katie as her skill, hard work and determination has really paid off. Her affection for and bond with Archie shines through and he is a very handsome and intelligent dog. It was great seeing the reaction of the students and staff as he went around the school as he caused quite a commotion! Archie and Katie are a formidable partnership so I wish them even more success in the future and look forward to seeing how their agility careers progress.'