Award-winning author Tamsin Winter spoke to Year 7 and 8 students at Brooke Weston Academy about how she is inspired by real life issues including body image and social media usage.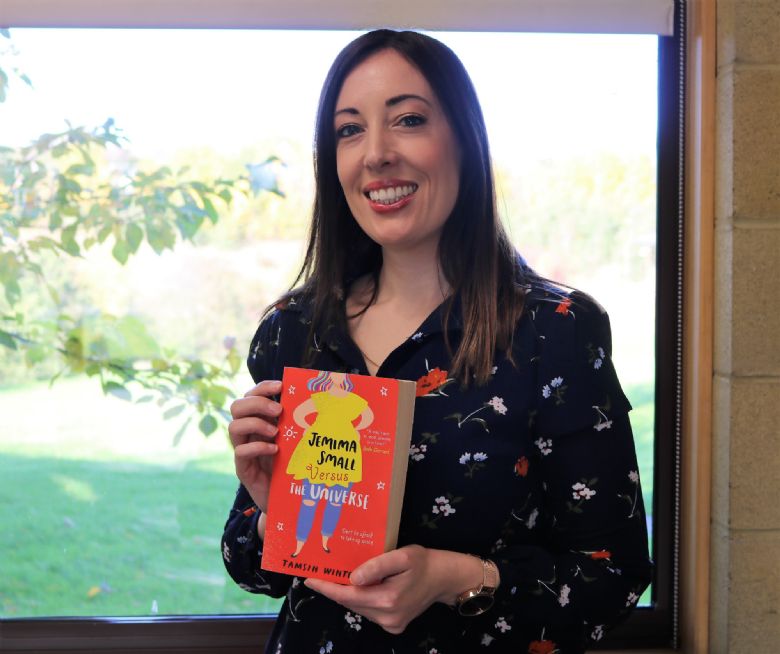 Tamsin, formerly an English teacher at the academy, wrote her first book, 'Being Miss Nobody', about a girl with selective mutism who starts an online blog. Her latest novel, 'Jemima Small versus the Universe' was named Guardian Book of the Month and there is another, as yet untitled book, due out next summer.
Tamsin said: 'My dream of becoming an author started as a child back in 1987 but it wasn't until 2017 that I achieved that dream. I studied creative writing at university. I got a job but kept on writing. It wasn't until 2015 that I had this really powerful daydream. I saw this girl, sitting in a classroom, being completely ignored by everybody around her but there were all these words tumbling around in her head. I really wanted to write this girl's story. That became 'Being Miss Nobody'. That story led to me getting my book deal, something I had dreamed about for 30 years.'
Her second book was inspired by real life events: 'I was reading an article about a Year 6 girl who had been weighed at school and a letter was sent home about her being fat. The article spoke about the mother but there was nothing about how the girl felt and what effect that letter had on her and her life. All of that led to me writing 'Jemima Small'. Jemima's story is not a weight loss story. It's the story of her growing the confidence she needs in order to do the things she is good at.'
Tamsin spoke about the writing and editing process and produced the seven drafts she had written of one book to illustrate how time-consuming the process is. 'A lot of people think that when you are a writer it all comes out perfectly and you send it off to your publisher. That is certainly not the reality. I've got over 300,000 words in the drafts which have gone to make a book of 70,000 words. Words have been deleted, changed, edited, cried over, ripped up and then eventually they became a book.'
She read an extract from the first chapter of Jemima Small, answered questions from the audience and signed books.
Afterwards she said: 'When you write contemporary fiction for this age group you naturally are going to be issues based. When I was writing Jemima's story I had to include weight related bullying because there was not one story that I read during my research and not one child that I spoke to that hadn't experienced it sadly. The main part of the book is that she accepts herself and how she views herself because her body doesn't change, but the way that she sees it changes. I don't think Jemima should change herself to be treated with respect and to go for what she is good at. She's extremely smart. It was really important to me that it wasn't a weight loss story from the very conception.
'I got the idea for my next book about a girl in Australia suing her parents because they wouldn't take an embarrassing photo down from Facebook. I was interested in exploring who has the final say in privacy and what happens when your parents refuse to take down content from the internet that is causing you shame or embarrassment.
'I love writing for this age group because you can deal with hard, difficult issues and still have a bit of silliness in there as well. I like books that are funny and sad. It's a really great age group to write for as the characters are a little bit mischievous. You want people to love your character, they have got to shine through.'
To see a gallery of pictures click here.