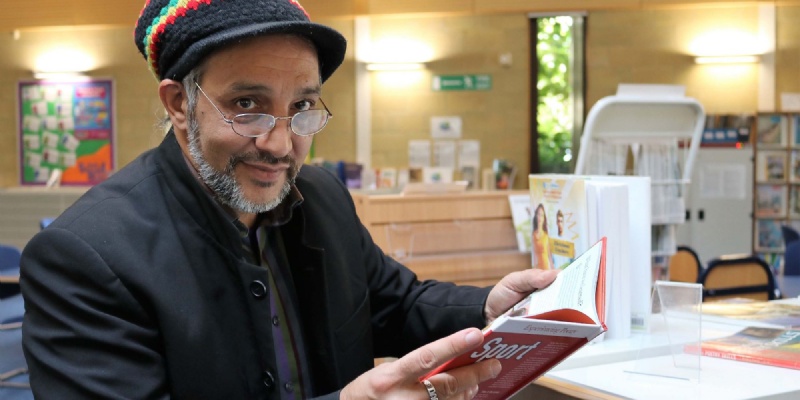 Performance poet Dreadlockalien, aka Richard Grant, gave impromptu poetry renditions and taught students to beatbox during a recent visit to Brooke Weston Academy.
He gave interactive presentations to Year 9 and Year 10 students, spoke about his writing career and also helped the book club make mini books of poetry.
He started his high-octane presentation by performing an off-the-cuff poem that he constructed using students' names which had them hooked from the start. He then did rhyming games with a huge amount of audience interaction before getting volunteers for a beatboxing and rhyming challenge. The students were also invited to submit words which he wove into instant rhyming couplets to form love poetry. The whole session was intended to make them see how interactive and instant poetry can be. He also took part in a question and answer session.
He has been touring schools performing his poetry for 15 years as a poet without residence. He said: 'The most exciting thing is the changing face of poetry with spoken word and live literature. Spoken word is linked to music. Most adverts nowadays all have little rhymes or raps, so the whole explosion of poetry into spoken word in its many art forms, such as rap, grime, lyrics, that for me is the exciting thing about poetry at the moment. Technology takes things to new levels and now there are even Instagram poets with millions of hits. The Brooke Weston students today were really attentive and had great listening and creative skills.'
Afterwards he commented: 'I have had the honour of visiting over 1000 schools around the world, from top fee paying schools, International schools right across to inner city secure units, and only get a brief snapshot of each school as a visitor. Brooke Weston Academy would be in my top ten learning establishments globally, alongside Alice Smith School Malaysia and The Harrodian, London.
'You have an amazing 'culture of learning' at your establishment which I cannot commend you highly enough for. The 'respect for each other' cannot be bought in and has to be nurtured and grown over time like any culture. The strong trellis of adults, older students and sixth formers you have gives the younger students a clear progressive upward path to reach for. I am so proud that here in the Midlands, we have a school like yours. Keep doing what you are doing Brooke Weston!'
To see more pictures click here.