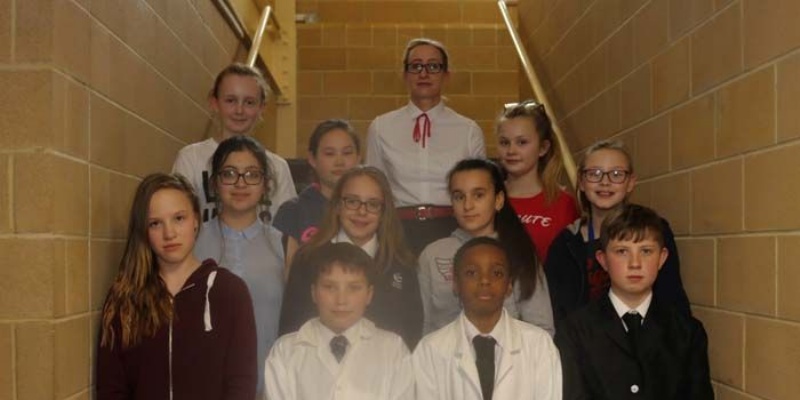 Please enter an introduction for your news story here.A team of our students competed with others from across Trust secondary schools in the Big Big Book Quiz when they met bestselling author Ross Welford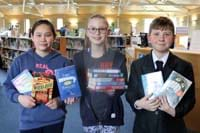 and heard about his writing career and inspirations.
The quiz is an annual event and the questions focused on books in four categories: 'Mind Your Head', 'I Can't Remember the Title But the Cover is Blue', 'A Picture Speaks a Thousand Words' and 'It's a Mystery'. There were also raucous physical activities linked to the books, including eating muffins wearing latex gloves, juggling and wrapping students in toilet rolls!
Matthew Smith, from Year 7, said: 'For a couple of terms we have been reading books based on the quiz. My favourite was Moonrise by Sarah Crossan about a boy whose brother is on death row for a crime he didn't commit. I won six books and an Easter egg, and I enjoyed watching the juggling because it was quite funny!'
Daisy Cook said: 'The author taught us how to write stories and said that you shouldn't wait for something to inspire you to write, you should just get in there. My favourite part was working as a team as we were able to answer more questions correctly.'
Charlotte Fletcher added: 'I really enjoyed seeing other groups participate; it was interesting to see their ideas and how they had memorized the books. It was really fun to have a guess at some of the questions you didn't know but the physical activities were the best bit and were all linked to the books we'd been studying. We had a checklist of books so we knew which of our team were reading which books.'
Brooke Weston's Librarian, Wendy McCabe, said: 'Ross Welford was really interesting. He captured the students' attention and was talking about his first book 'Time Travelling with a Hamster', which has been nominated for about 21 awards. He demonstrated time travel by doing a rope trick that left the students guessing how it was done! The Big Book Quiz is a really good event as it gets students reading books that they probably wouldn't have picked up otherwise, and it introduces them to new authors.'
CBA's Librarian Amy McKay said: 'It was a fantastic day and wonderful to see so many students from across the Brooke Weston Trust celebrating a love of books and reading. They had all been reading the 20 selected books since term two and their knowledge was incredible – unsurprisingly it was a fiercely fought competition. Many participants, and their accompanying staff, wore fancy dress and a display of fantastic costumes were on show – including Mary Poppins, Mad Hatters, Tweedledum and Tweedledee, the World's Worst Children and the Hungry Caterpillar. Thanks to everyone who took part.'