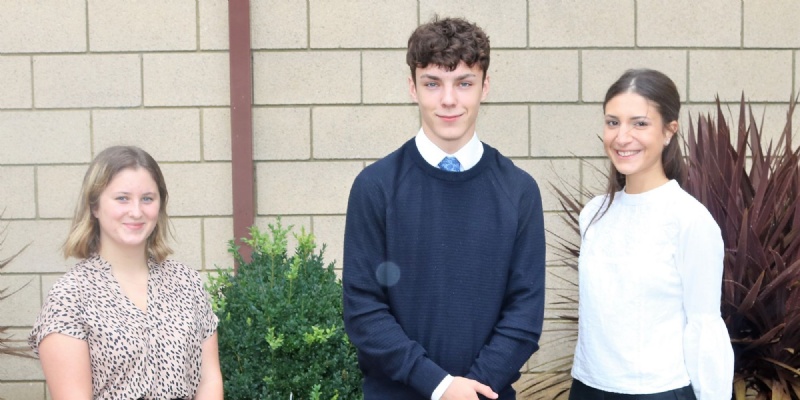 Three Sixth Formers at Brooke Weston Academy have been chosen to lead MedSoc (Medical Society) a a series of in-house sessions so that aspiring medical students can find out more about healthcare careers, degree courses and the application process involved.
It is the second year that MedSoc has run at the Academy. Last year's Head Boy, Sharon Sajan, who is now going to study medicine at university, inspired Isabella Moxey, Guilia Ignatescu and Alex Ciutac so much that they volunteered to take over running the course from him.
Isabella, who is leading the MedSoc team, is studying chemistry, biology and history A Levels said: 'Sharon outlined the application process and it really helped me so I wanted to do the same for this year's Year 12s. I am applying for both medicine and nursing and ideally would like to go into children's medicine. Due to Sharon's help I was able to prepare early. We looked at exams, starter questions and different types of courses and universities, because some are more lecture based while others are more practical.'
Guilia is studying biology, chemistry and psychology and wants to become a doctor. She said: 'I wanted to get involved because I took part last year and found it really helpful. Now for Year 12s it is going to be so much harder so this support is going to be crucial, because if we are not putting all efforts in to make them the best applicants possible they won't be having a fair chance. I am looking forward to helping people discover their interests.'
Alex is studying maths, biology and chemistry with a view to going into pathology or surgery. He said: 'I like logical explanations behind scientific concepts so I am interested in how the body works. Sharon took me through the application process and said while he was teaching us he also learned a lot himself so not only am I going to give back to the Year 12s, I am also going to learn as well.'
Teacher Louise Hegarty, who oversees MedSoc said: 'Isabella, Guilia and Alex are planning to work using technology, such as Teams, to ensure social distancing. Sessions will cover information on UKCAT exams, guidance on revision, how to individualise Personal Statements effectively and topics of interest relating to biology, medicine and the health care professions.
'I want the students to get an informed view on whether medicine is a career for them and to be fully prepped for the tests that are involved. I am hoping that MedSoc will evolve each year and maybe after Covid we can expand it to include outside speakers as well.'