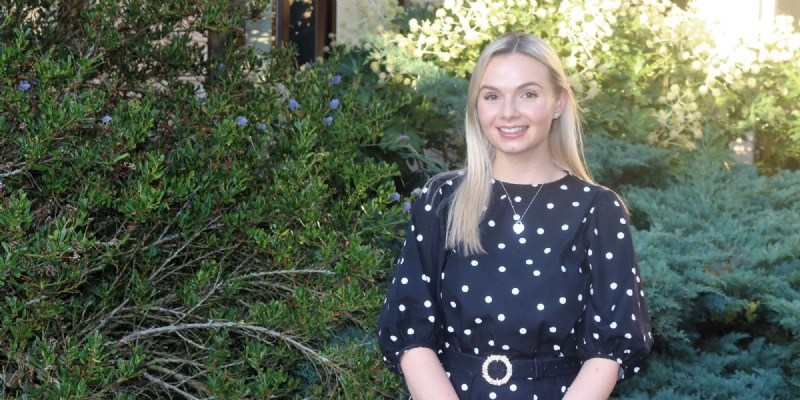 Congratulations to English teacher Leah Patterson who has been accepted as a Fellow on the Specialist Schools and Academies Trust's Leadership Legacy Programme.
Ms Patterson, who is in her third year of teaching, will take part in virtual meetings and conferences, culminating in producing a written 'thinkpiece' on a subject of her choice. Leadership Legacy is a year-long programme aimed at developing the leaders of the future.
She said: 'The virtual launch allowed us to collaborate with teachers and leaders in schools all around the country and even in British International Schools. It was interesting to hear that, although we might be in very different contexts and locations, there are similarities in what we have experienced, particularly with the impact of Covid on teaching this year.'
Leah has come through the ranks at Brooke Weston Academy, having attended as a student before completing her teacher training with the Teaching School.
'The SSAT opportunity allows me to explore how other schools and leadership styles work in different contexts. During my training year, I completed a 12-week placement at Kettering Science Academy which allowed me to develop an understanding of how leadership, teaching and pedagogy vary depending on school context. I think it's really important to learn through collaboration with other colleagues which is why I jumped at the opportunity the Leadership Legacy programme offers me. I look forward to collaborating with other leaders around the country so I can enhance my own leadership attributes.
'I have chosen to write my Thinkpiece on Key Stage 5, the curriculum and how we can support students with revision strategies by collaborating across subject curriculums. Often we assume that Sixth Form students are used to independent study and revision, however, because of lockdown and the possible impact on their education there may be more need to support them with this. The best part of being a teacher is seeing the students take pride in what they have achieved. It is about engendering confidence in them. I am really thrilled to be given this Leadership Legacy opportunity as it provides so much scope to learn about new ways of teaching and leadership, not just in the UK but globally.'