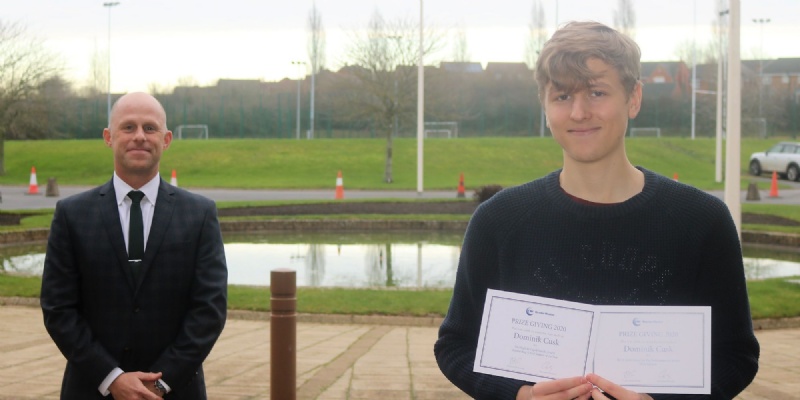 Congratulations to Dominik Cusk
Congratulations to Dominik Cusk who was the highest performing student at Brooke Weston Academy in his A Levels this summer.
He has been awarded the Hugh de Capell Brooke Award and he received a generous cheque and a commemorative certificate.
Dominik, who is now studying computer science at Pembroke College, Cambridge, was presented with his prize,, awarded to the Outstanding A Level student of the year by Brooke Weston Academy's Associate Principal Shaun Strydom, after achieving A* grades in computer science, chemistry, maths and further maths and an A physics.
He has just completed his first term of study in socially distanced conditions and is enjoying his time at university. He said: 'All the lectures and supervisions are online but I am having practicals building circuitry as you can't do that remotely. We did an introductory foundation course which teaches you the fundamentals of how circuitry is built in a CPU and its applications. It has been really interesting.'
He has fourteen lectures a week, including one on Saturday morning: 'I went in expecting it to be really intense, but it is even more intense than I expected! It was definitely worth all the effort to get there. It is really diverse and everyone is really friendly. If BWA students are thinking of applying to Cambridge I would advise them to work hard.'
Presenting Dominik with his certificate and prize Mr Strydom told him: 'We are really proud of you, it is a tremendous achievement and demonstrates what can be achieved with hard work and ambition.'
To see more details of BWA's virtual Prizegiving this year and the individual prize winners click here.