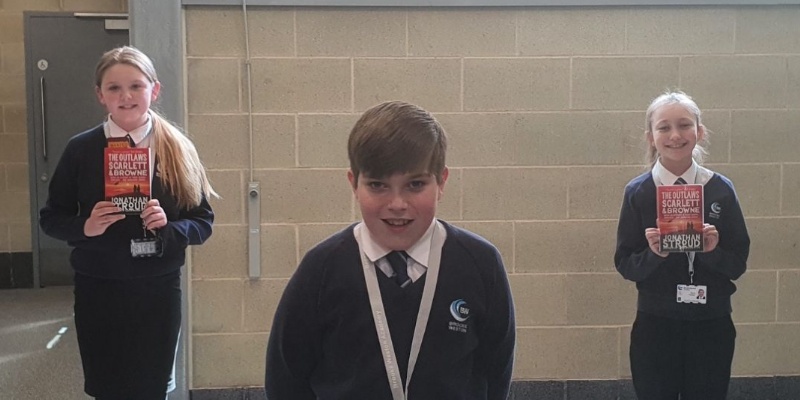 Virtual event with author Jonathan Stroud
Some of our year 7 students were treated to a virtual author visit at Brooke Weston Academy from best-selling author Jonathan Stroud. He is the author of two internationally best-selling series: the award-winning Bartimaeus sequence, which has been published in 36 languages worldwide, and the critically acclaimed Lockwood & Co.
Jonathan's latest book, recently chosen as a Sunday Times Children's Book of the Week, 'The Outlaws Scarlett and Browne,' is a fast-paced, dystopian fantasy novel and is the first book in what is set to be an extraordinary series.
Jonathan talked to the students about how he crafts his award-winning stories, and they discovered what life is really like as a professional writer as well as being given tips on writing their own stories. His top three tips were; 'to write about something that excites you, not to worry about how good it is at the start and to write regularly.'
Jonathan said, 'I enjoyed scribbling stories and drawing from very early on and around the age of seven I began writing rip-roaring adventures inspired by the works of Enid Blyton. Throughout my school years I experimented with different kinds of writing, often illustrated. I tried comics, gamebooks, board games, and later poems and plays. Without being entirely aware of it, I was searching for the kind of writing that suited me best. Around this time I fell in love with fantasy.'
Jonathan answered a number of questions posed by our students, and they were thrilled to be personally addressed and have their questions answered.
Hermione 7W said, 'I enjoyed it when he told us about the writing process and answered our questions'
Librarian Wendy McCabe said, 'It was a wonderful opportunity for the students to be able to hear about Jonathan's books and his career so far, particularly as we cannot have our usual face to face author visits just at the moment. '
Congratulations to the following students who each won a copy of Jonathan's new book after entering their event feedback forms into a prize draw. Jake and Stevie from 7W and Darcie from 7B.
To visit Jonathan's website click here http://www.jonathanstroud.com/