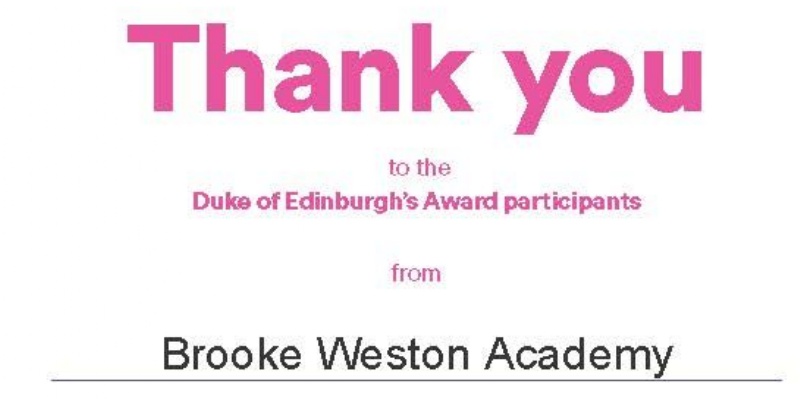 Brooke Weston celebrates the impact of our DofE volunteers
Brooke Weston Academy received a certificate celebrating the impact of our DofE group's volunteering efforts. Despite the challenges of the pandemic, thirteen year 9 and 10 students from Brooke Weston Academy dedicated 156 hours to volunteering between April 2020 and March 2021, with a social value of £709.80.
The Duke of Edinburgh's Award is a voluntary, and flexible programme of cultural and adventurous activities for all young people aged between 14 and 25 years old, whatever their background or ability. Volunteering is a key part of the DofE programme due to the impact it has, both on a young person's life, and on the wider community. Students develop the skills and attitudes they need to become more rounded, confident adults. Qualities that colleges, universities and employers are attracted to.
Darren Hooper, who co-ordinates the Duke of Edinburgh Award at Brooke Weston Academy said, 'The students that are involved are learning life skills which are what universities, and employers are looking for. It shows that they can work on their own and have good time management skills. Activities included helping organisations such as the Brownies, Faith Communities, Library helpers, helping charities, animal welfare, coaching and volunteering in charity shops '