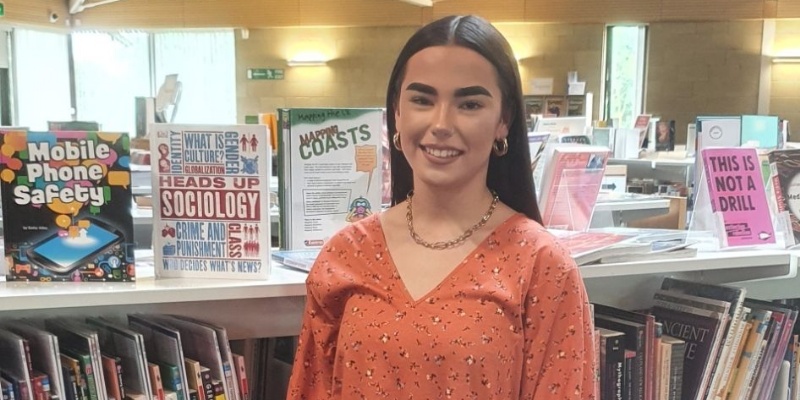 Sixth former Amelia celebrates after securing prestigious Degree Apprenticeship
Brooke Weston Academy sixth former Amelia Duncan is celebrating after gaining a highly sought after place for a degree apprenticeship with Standard Chartered, a financial services company in London, who offer international banking services.
Degree apprenticeships are similar to higher apprenticeships, but differ in that they provide an opportunity to gain a full bachelor's degree (Level 6) or master's degree (Level 7). They combine working with studying and this can be on a day-to-day basis or in blocks of time, depending on the programme and requirements of the employer. Degree apprenticeships can take between three to six years to complete, depending on the course level. Apprentices are highly employable graduates and last year, 90% of apprentices went straight into work or further training after they had completed their scheme.
Amelia was previously a student at Corby Business Academy before joining the sixth form at Brooke Weston to study Psychology, Maths and Health and Social Care. She said, 'I think Brooke Weston has helped me to achieve my goals by pushing me to become very independent and hard working. I feel like attending Brooke Weston has been an excellent stepping stone between school and the real world.'
Amelia faced tough competition to secure a place on the degree apprenticeship as she was up against 1,700 candidates applying for the same position. Speaking about the application process, Amelia said, 'At first I had to submit a CV as well as a cover letter but before they even reached Standard Chartered, I had to undergo three assessments: a scenario-based assessment, a logical reasoning assessment and a numerical reasoning assessment. After each assessment, if successful, an invite would be emailed out for the next one. The final assessment was extremely difficult, and I sought out help from Brooke Weston staff Mrs Smith and Mr Johnson, to allow me to confidently prepare for it. From the assessment stage I then had two interviews, one was recorded and the other was over the telephone. I was then invited to an 'assessment centre day'. This was a three hour session over zoom with three other candidates and we had someone from the company leading the session. During this assessment we took part in different games and scenarios whereby we had to use our own knowledge and interactional skills to problem solve, all the while being assessed and watched. It was a difficult yet rewarding process.'
Amelia explained why she decided to take the degree apprenticeship route after her A Levels rather than applying for university, she said, 'I chose this route after A Levels because I decided right at the end of year 13 that I no longer wanted to go to university as I was not interested in either the student lifestyle or student debt. I currently have two jobs and I really enjoy working so as soon as I found out about the possibility of an apprenticeship, I knew this was the route I wanted to take because of the opportunity to be able to learn and work at the same time. It appeals to me that I am able to learn whilst practically applying my new knowledge. The apprenticeship is three years, and I am based in central London. I will be commuting at first, but I do aim to explore the prospect of moving there in the near future. My apprenticeship is laid out so that I will be in the office everyday doing 9-5, my studying is to take place within this time and all of my exams and assessments will also be incorporated into this 9-5 day over the three years. At the end of my apprenticeship I will hopefully stay with the company and continue working in a new role as a fully qualified team member. As the company is international with connections to Asia, I would also like to hope that I may have the opportunity to work abroad either during my apprenticeship or afterwards.'
https://www.ucas.com/alternatives/apprenticeships/apprenticeships-england/what-apprenticeships-are-available/degree-apprenticeships
https://www.ratemyapprenticeship.co.uk/degree-apprenticeships