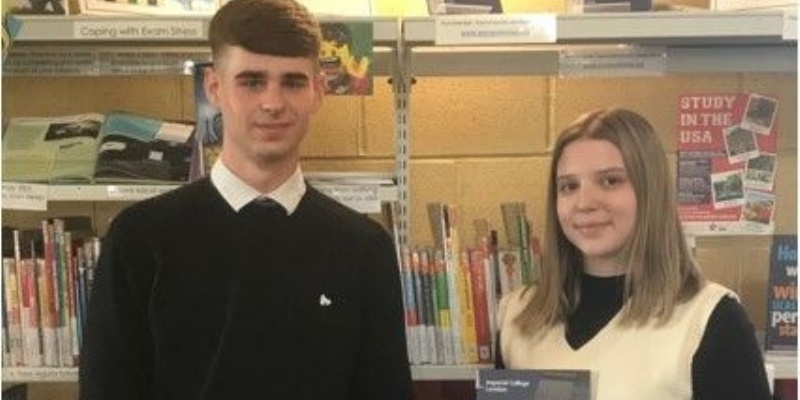 Year 12 students Julia Koczor and Lewis Stevenson, have been successful in securing places on the Imperial College, Life Sciences Scholars programme, which is taking place from 2nd-6th August this summer.
Imperial College London is a world-class university traditionally known for its science, engineering and medicine programmes. The Life Science Scholars programme is a collaboration between Imperial College London and the Brilliant Club; a university access charity that aims to increase the number of students from underrepresented backgrounds progressing to highly selective universities.
The programme is an opportunity for students who are in Year 12 and are interested in studying Biological Sciences and Biochemistry at Imperial College, London. It aims to support students in developing relevant skills and knowledge to make successful applications to study Life Sciences at university.
Lewis said, 'The application process involved filling out a questionnaire on why I should be picked for a place on the program over the other applicants. I secured my place by displaying the type of student I am. I am hoping to study microbiology at degree level in the future and I am looking forward to learning about the current cutting-edge research in a sector I'm very interested in.'
The online applications were supported by a teacher reference which was supplied by Brooke Weston Post-16 Co-Curricular Coordinator, Mrs Hegarty. She said, 'Julia and Lewis will attend a series of virtual tutorials with a researcher from Imperial's Department of Life Sciences, and will work towards producing a written final assignment on a cutting-edge area of research. They will also have the chance to meet current students in the department, attend a research seminar on a ground-breaking scientific area, and attend additional sessions on how to showcase their experiences in their UCAS application, and the transition from Year 13 to university.'
Julia said, 'I am hoping to study an Environmental Biology and Ecology course next year at university. Imperial offer a degree like this which seems very interesting and would be the ultimate goal. I'm mostly looking forward to having a glance at what studying biology at university level would be like, especially at such a highly selective university as Imperial. But also meeting other students interested in the same field of biology and discussing our plans for the future.'