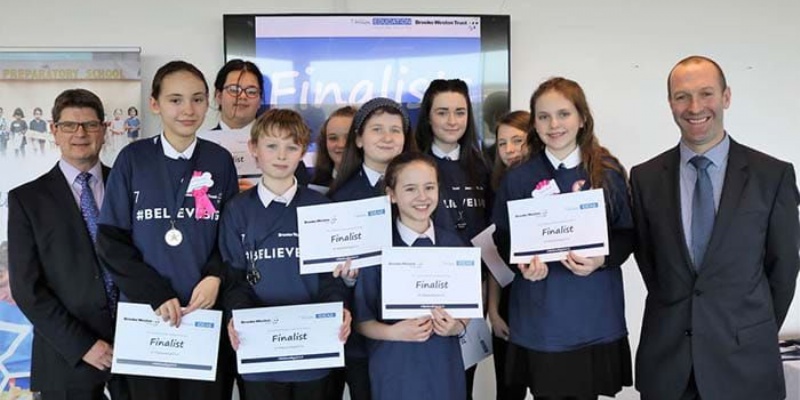 Congratulations to the Brooke Weston Teams who competed in the final of the Trust's Believe Big competition and won first prize for the best stall with their invention RoboDog.
It was a day of innovation and celebration when teams from across the Trust secondary schools showcased their potentially life-changing ideas.
Many of the teams developed concepts to help the homeless, those with special needs or schemes to make the most of the world's resources and the judges commended the teams on their selfless attitude and the way that many of their ideas could actually become a reality.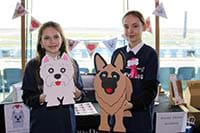 Brooke Weston entered with RoboDog who won the prize for best stall and a solar powered water purifier. Year 7 students Libbi May Yates and Amelia Wright came up with idea of RoboDog, an electronic guide dog, after learning about how much guide dogs cost to buy and train. Amelia said: 'I got the inspiration when some guide dogs visited the Guide pack that I go to. It costs so much money to train a guide dog and there are lots of people on the waiting list.'
Libbi May said 'As it's a robot it is easier to look after as you don't have to feed or walk them. I have enjoyed the project, it has been really fun.'
Sofia Muhammad, Tyler Green, Catherine Darroch and Jasmine Bailey developed their solar powered water purifier to turn sea water into drinkable water. They made a model showing how they would boil and cool the water then pump it to where it was needed.
The teams developed their ideas and created a name, slogan, marketing materials, model and presentation. All of the students received a commemorative medal and T-shirt and the winning teams were given certificates. The overall winners were from Corby Technical School who won with their idea to combat drink drivers and will have their idea developed into a children's book which will be available on Amazon.
David Harkin, CEO of 7 Billion Ideas said: 'Today was about how the teams came up with their ideas. We are going to make a story and an illustration artist will bring it to life. In three to four months' time we should be having a great book launch.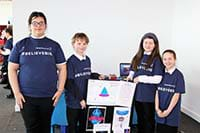 'The students have been fantastic. We launched the competition earlier this year and there was so much energy and hard work from the students and the stalls today are world class. The students have gone above and beyond, it is just extraordinary. I don't think Brooke Weston Trust has got anything to worry about in terms of the next generation of entrepreneurs. We have 15 fantastic ideas in the room and the judges have had an incredibly difficult challenge.'
So far 7 Billion Ideas has worked with 60,000 students over the past six years, predominantly in the UK but also in Europe doing activity days, competitions and courses. David said: 'There are 7 billion people on the planet but the vast majority do nothing about their ideas, so we wanted to build a website and an education arm which inspires people to connect with their own ideas.
'It is about raising aspiration and unlocking the entrepreneurial and creative DNA which exists in every student. 82 per cent of seven year olds in the UK form strong opinions of how their futures are going to be so they are already ruling out possible career paths. 80 per cent of adults do work that they are not happy doing and 43 per cent of adults fear failure so they don't even start on an idea.
'We want to raise aspiration, embrace failure as part and parcel of life and have a go at developing ideas and encourage students to think big and dream big. Ultimately that will mean making the right decisions as they grow up.'
Announcing the winners Brooke Weston Trust Chief Executive Dr Campbell told the students: 'What has been genuinely inspirational is the quality of these ideas that could change the world. The ideas were fantastic and what struck me has been the degree to which different people have thought about how they can help others. It is refreshing listening to students talking about things that can help other people rather than themselves. We chose the winner because we could see the idea becoming reality, the way it was developed was personal and it relates to an important safety issue that is relevant to many people.'