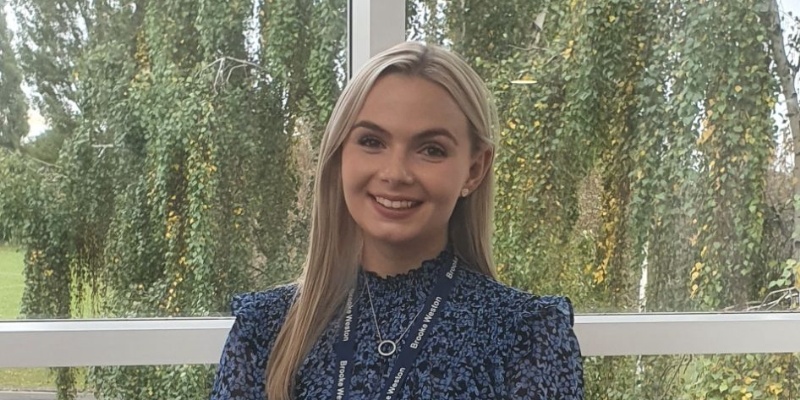 Congratulations to Leah Patterson, Head of KS4 English and Media at Brooke Weston, who has successfully completed the prestigious Leadership Legacy Project 2020-2021. The initiative is run by SSAT, the Schools, Students and Teachers network and is a year-long project aimed at developing the leaders of the future.
The impact of the project is impressive and involvement demonstrates commitment by Brooke Weston Academy to developing the next generation of leaders. Teachers who are accepted onto the Leadership Legacy Project achieve increased leadership responsibilities at an early career stage, through exposure to a wide range of knowledge and information and the activities undertaken have an impact at classroom and whole school level.
Leah has come through the ranks at Brooke Weston Academy, having attended as a student before completing her teacher training with the Teaching School at Brooke Weston.
She said, 'The project allowed me to explore the Teaching and Learning provision for our A Level students and in particular, focused on the assessment structures we embed for our A Level Language students. It allowed me to reflect on strategies to improve and support students through a 'Knowledge-led curriculum' to mastery of the subject. Despite the sessions taking place virtually, they were designed to be incredibly interactive with opportunities for break out rooms, 'catch ups' with my support group, interactive quizzes and activities. This meant there was still plenty of opportunity for networking and one of my favourite parts of the course was the collaboration and connection it gave me to leaders and teachers in other schools across the nation and in overseas countries including Dubai. If anything, this course was invaluable during the lockdown as it provided me with a huge support network of such diversity.'
The project culminated in Leah producing a written 'think piece,' on a subject of her choice.
She said, 'The title of my research project was 'Raising Attainment in A-Level Language: Restructuring Assessment in a Knowledge-Led Curriculum'. Often Year 13 students are thought to have mastered their own approach to revision and learning having been successful at GCSE and resultantly, considered to already possess the exam skills ready for application at A Level. In the conversations I was having with my Language class at the start of the year, I quickly realised this was not the case, this year in particular, and students did not feel confident nor exam ready for the mocks they would sit in Term 1 that would inform UCAS applications. Therefore, I wanted to implement an approach that prioritised student confidence and specifically focused on the role knowledge could play in empowering students with the belief that not all is lost as a result of the pandemic. As a result, my project has now enabled me to further explore the role knowledge plays and I can now support the implementation of a rigorous and robust system in my new role of Head of KS4 English and Media.'
Leah will be taking part in an online graduation event to formally recognise her achievement and to look ahead to her future journey as a leader of education.
She said, 'The course has been enlightening to explore educational demands from a leadership perspective and I feel I have learned lessons in the last year that will form the backbone of my teaching career moving forwards.'