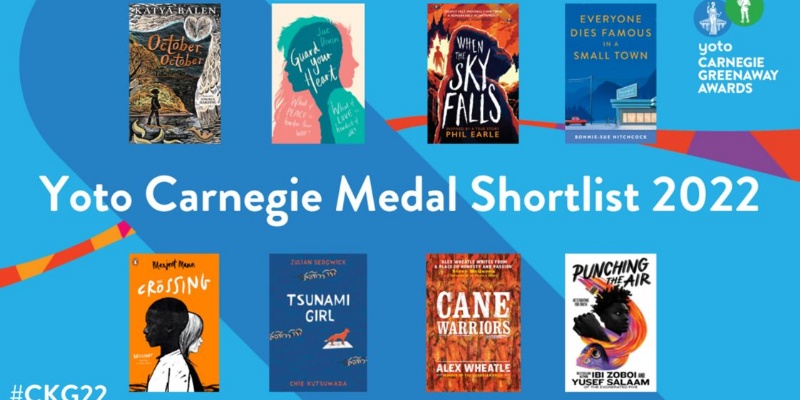 The shortlists for the 2022 Yoto Carnegie Greenaway Awards have been announced and students from Brooke Weston Academy will begin shadowing the book awards; meeting regularly to read, discuss and write reviews on the shortlisted titles.
The Awards celebrate outstanding achievement in children's writing and illustration respectively and are unique in being judged by children's and youth librarians. Often described by authors and illustrators as 'the one they want to win' - they are the gold standard in children's literature.
16 books have been selected in total – eight for the Carnegie Medal and eight for the Greenaway Medal. Six of the eight Carnegie shortlisted books are based on real-world events – from Tacky's War to WWII; the legacy of the Troubles to the refugee crisis; the 2011 Japanese tsunami to the Central Park Exonerated Five case – with many demonstrating the power of friendship to help young people overcome challenges and celebrate difference.
On Friday 10th June more than 70 students from Brooke Weston Trust primary and secondary schools will visit Brooke Weston Academy to take part in a Carnegie and Greenaway event. The winner in each category will be announced in a live awards ceremony in London on Thursday 16th June.
Librarian Wendy McCabe said: 'The shadowing scheme is a fantastic way to introduce students to new books they otherwise might not have read. Being able to discuss them with other students helps to develop their confidence and communication skills. By shadowing the awards the students feel like they are part of the judging process and it's always interesting to see if our favourites match up with the official winners of the awards. Any students who would like to take part in the shadowing scheme can pop along to Bookbusters Book Club in the Library on Tuesdays during extended tutor time'
To find out more about the awards: https://carnegiegreenaway.org.uk/