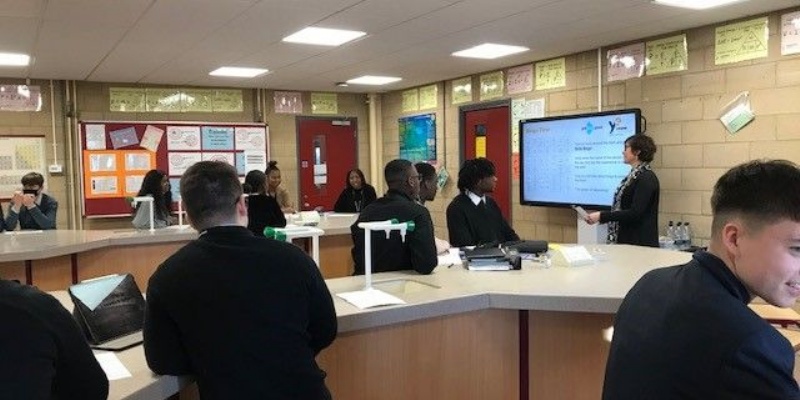 Brooke Weston Academy Sixth Form students who are considering an apprenticeship as part of their next steps, recently took part in a Grid for Good event provided by energy giant National Grid and the national charity Young Enterprise.
The Grid for Good programme is a flagship energy industry scheme designed to provide training and employment opportunities for young people and raise awareness of opportunities at National Grid and in the energy sector in general. It also builds an understanding of the skills needed to thrive in the sector and the career pathways available.
The event gave our students an insight into the type of activities that are typically used at assessment centres as part of the recruitment process for apprenticeships. The Grid for Good programme consisted of three sessions including insight, teambuilding and upskilling.
During the insight session students completed a personal profile online quiz identifying their strengths, traits and self-awareness and career path choices were discussed with National Grid employees.
In a teambuilding exercise, students worked through a problem solving scenario used within National Grids' assessment centre, called the 'Plane Crash' Task and shared their findings on 'how to survive.'
The final session, upskilling, involved National Grid employees sharing their top tips for work readiness, focussing on interview skills and STAR (situation, task, action and result) method answers.
A Certificate of Completion was provided for personal achievement records for all students who took part in the event.
Kieran Toner, Year 13, said, 'The event was helpful to support with how to put together your responses in an interview situation.'
Ben Waterhouse, Year 13, said, 'The team activities that we did provided a useful insight to those that I might encounter in the apprenticeship application process.'
Post-16 Co-Curricular Coordinator, Mrs Hegarty, said, 'It was an amazing opportunity for our KS5 students to experience the type of activities that may be involved in the apprenticeship selection process. Our students were able to discuss potential career pathways with current National Grid employees and received personalised guidance on responses to typical interview questions. We would like to thank Young Enterprise and National Grid for investing their time and support to the students of Brooke Weston Academy.'