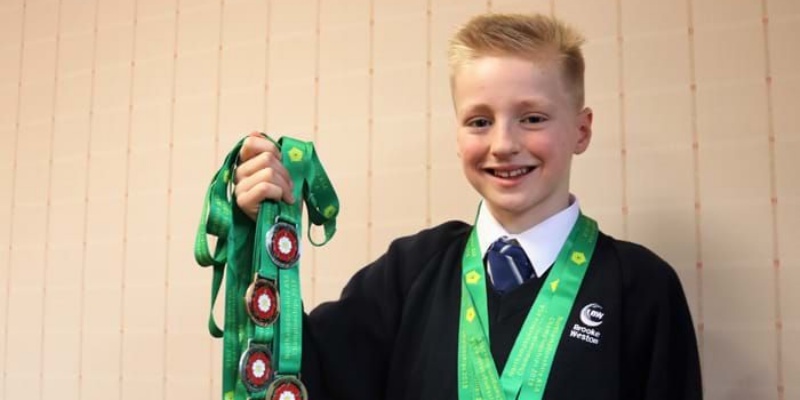 Congratulations to champion swimmer James Annable who won an astonishing 11 medals at the recent Northants County Swimming Championships and has aspirations to be a top level sportsman.
He is currently ranked first in the East Midlands for 200m breaststroke in his age-group and 19th overall in the UK for that distance. Nine of his recent race times have qualified him to compete in the East Midlands Regional Championships where he is hoping to win gold in the breaststroke races.
James, who is in Year 7, has been swimming since he was six and trains morning and evenings. As well as his pool sessions practicing strokes, dives and turns he also takes part in land training to work on his core strength. James is so committed that he has even given up sweets and chocolate to ensure he is as fit as possible!
At the recent County Championships he won gold medals in the 50, 100 and 200m breaststroke, 50m backstroke and 400m individual medley, swimming a combination of butterfly, backstroke, breaststroke and freestyle. He also got silver medals in two backstroke and two freestyle events and another individual medley, rounding off his impressive medal haul with a bronze in the 50m butterfly, a stroke he has only recently taken up.
He said: 'I am really pleased with my times for the 200m breaststroke because thousands of people swim and there's only 18 people in the country faster than me. I like the competitiveness of standing on the blocks when all the other swimmers are really nervous and you are not. Also when you get a medal you feel really proud of yourself!
'Last year I won four medals in the county championships and this year I won 11 so the hours of training are paying off. I am very competitive; my short term goal is to win a gold medal at the East Midlands Regional Championships and my dream is to one day get an Olympic medal!'
James's swimming coach, Howard Farrow, from Kettering Amateur Swimming Club said: 'What is impressive is that James won medals across different strokes and distances. He is motivated and really wants to do well. His biggest strength is his determination and he sets himself short and long term goals which is what you want in an athlete.'