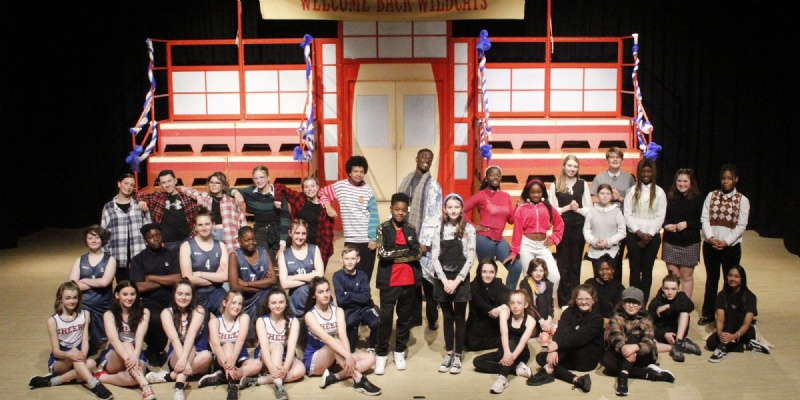 Well done to our students at Brooke Weston Academy who, after 12 weeks of dancing, singing and acting rehearsals, put all the nerves behind them to pull off a spectacular performance of High School Musical on Stage to a packed out audience.
The Weston Theatre was transformed into East High School for two evenings with the energy and passion of all of the cast and ensemble shining through in their performances.
Year 8 student, Tuvya Balogun-Williams, and Eleanor Waterman, year 7, delivered great performances playing the lead roles of popular high-school athlete Troy Bolton, and academically-gifted Gabriella Montez, respectively. There were also some strong performances from the supporting cast, including the double act of year 10 students, Fabrianne Lamptey, as drama queen Sharpay Evans with Tanaka Bindura as her fraternal twin Ryan Evans. Year 7 student Eilish Smith, perfectly played the character of pianist and songwriter Kelsi Neilsen, with Savannah Clifton, year 8, entertaining the audience as East High announcer Jack Scott. Year 13 Jeremy Peprah, gave a superb performance as Drama teacher, Mr Darbus, and also delivered a heartfelt speech on the closing night of the show, about the impact that the pandemic has had on the performing arts industry.
Director of Performing Arts, Dawn Willis, said, 'I could not be prouder of the students for how hard they worked and how well they pulled together in the last few days, from supporting each other in the learning of lines and choreography to stepping in at the last minute to play parts or support with tech. In spite of so many challenges along the way, they pulled through and delivered an outstanding show. I love that the Performing Arts team grows every year in terms of its support from the wider school community and I thank everyone involved for that.'
Thanks to everyone, cast, crew, musicians and backstage helpers who made the production go so smoothly. Particular thanks go to director Phoebe Horner, producer and choreographer, Dawn Willis, vocal director Sophie Jackson, musical director Michael Lovelock and Tom Michell for lighting and sound.
Principal, Shaun Strydom said, 'I am so proud of all the students at Brooke Weston Academy who took part in the HSM production, you all did the most amazing job considering how difficult the last few years have been during the pandemic. A huge congratulations to you all and to your teachers for their support, guidance and direction. It was a fantastic evening, and you can all be proud of what you have accomplished.'