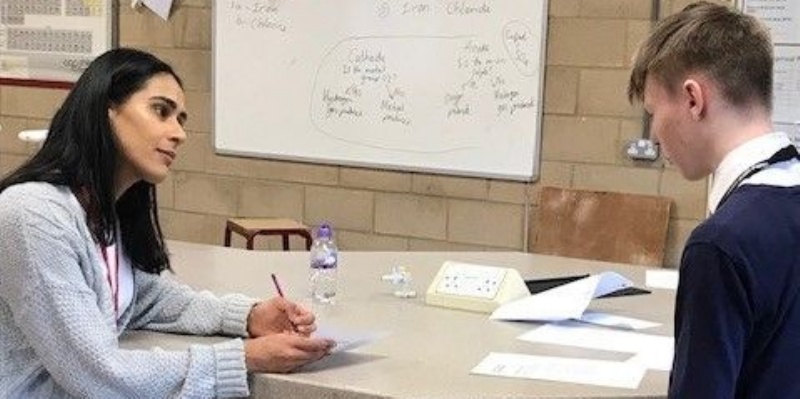 Brooke Weston Academy sixth form students attended a mock interview workshop led by Nav Kaur, from training provider Workpays, as part of a series of government funded workshops available to all secondary schools through the Apprenticeships Support and Knowledge (ASK) Programme. The programme is designed to give schools free support to develop and transform apprenticeship awareness activities, so that students, parents and teachers can be informed and inspired about the range of apprenticeship opportunities available.
Nav, who visited our students last term to inform them about a range of activities commonly used at apprenticeship assessment centres, introduced our students this time to the STAR method of answering interview questions to help explain how specific situations were handled. The technique involves describing a specific Situation, Task, Action, and Result of the situation being discussed.
Year 12 student, Jamie Loughran, said, 'When you have an interview it's obvious that you are going to be asked questions but the workshop has given me a better idea of typical interview questions I am likely to be asked.'
Nefe Abeke, Year 12, said, 'Being introduced to the STAR method of responding to interview questions was the main point that I will try to use in future interviews that I didn't know much about before today.'
Year 13 students, Nathan Moss, and Aaron Steel, both identified the mock interview role-play they took part in, as extremely useful.
Aaron said, 'At the very start, the idea of the role-play did make us laugh a little but within a minute we both settled into our roles and found the experience so useful.'
Nathan added, 'This was because we were able to put in to practice all of the guidance and advice Nav had given us earlier in the session.'
Post-16 Co-Curricular Coordinator, Mrs Hegarty, said, 'It was great to welcome back Nav from Work Pays for today's ASK mock interview workshop. The guidance Nav offered was excellent covering everything from appropriate dress and timings right through to being conscious that you are actually on interview from the minute you step into a building until when you leave. This was in addition to the mock interview scenario where our students got to put in to practice all of the tips, advice and the STAR method of framing responses that Nav had imparted to them.'