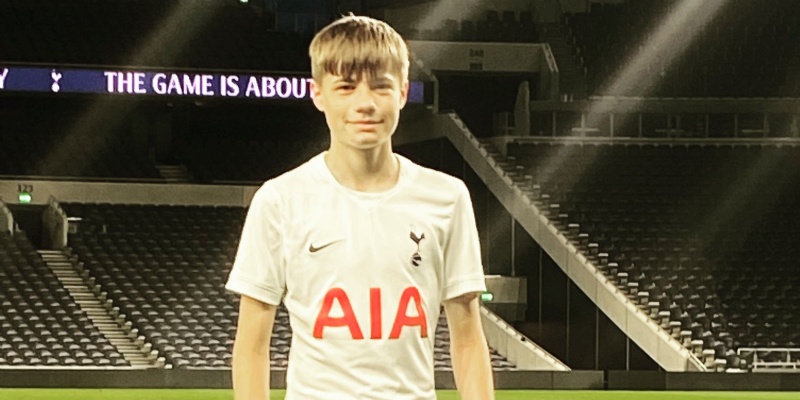 Congratulations to Brooke Weston Academy Year 8 student, Finlay Barnard, who after successful trials, has being offered a place at Tottenham Hotspurs Football Club Academy.
Finlay started his footballing career when he was two years old, playing with his grandad and big brother, in his grandparents garden. He eventually joined Corby Warriors Football Club and it wasn't long before his potential was spotted and he was scouted by Cambridge United at the tender age of eight years old, competing in several European and UK tours as a striker with the club.
After leaving Cambridge United, Finlay was approached by a Tottenham Hotspurs scout and invited to attend trials for their Academy. Finlay was the only U13 boy attending the trials and impressed the coaches not only with his football skills but also with the way he conducted himself and the respect he showed everyone at the club, which led to him being offered a contract the following day. Since then he has played in an internal tournament with the U13/14 at Tottenham Hotspur stadium as well being selected to play against Derby and scoring the first goal.
Finlay said, 'I was so excited to be told I was being officially signed as a Tottenham Hotspurs academy player. I will be training 3 times a week at their Enfield training facility and playing a match on a Sunday. I loved every second of the tournament I played in, getting to see and play in the stadium of my favourite club was fantastic. My ambition is to be selected as a scholar after next season and then I hope to eventually progress to the first team. I am very grateful for the support the school have shown me and I couldn't have completed the trials without it.'