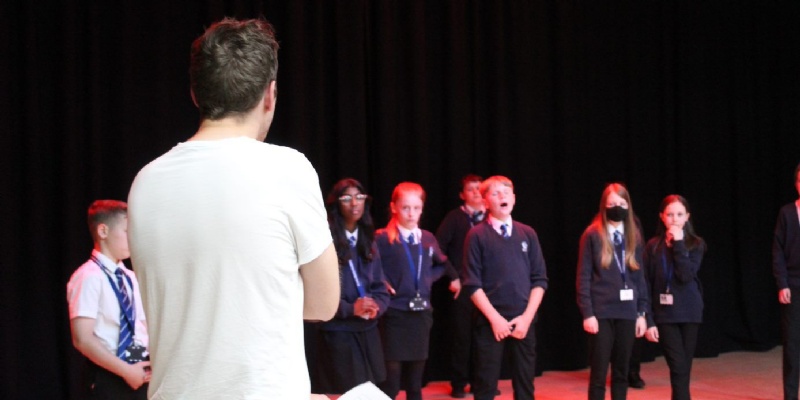 Brooke Weston Academy was delighted to be able to welcome Splats Entertainment to perform a double bill of Shakespeare to our students which included the magical comedy 'A Midsummer Night's Dream' for years 7 and 8 and the powerful and thought provoking tragedy 'Macbeth' to years 9 and 10. The performances linked directly to the English curriculum provision for each year group – reflecting on texts and genres studied through this year and last – making the perfect transition from paper to stage.
With a cast of just three actors; and an impromptu performance on stage from our very own Literacy Co-Ordinator Mrs Fitzjohn, the hour long shows captivated the audience.
Mrs Fitzjohn said, ''I was not prepared to actually get involved in the show, however the reaction of the students and the smiles on their faces made it worthwhile! I think it's really good for students to see staff members taking risks and letting their inhibitions go, as it models this behaviour. We often worry so much about what others think of us, and it can really prohibit us having fun and being ourselves. Next time we have a show I'll be ready!'
A selection of students were also invited to attend a workshop where they were able to engage with the actors; extending their theatrical experience as well as building confidence in understanding literature and delivering an engaging performance.
Mrs Fitzjohn said, 'It has been a long time since Brooke Weston opened its doors to a theatre company and we were excited to offer our students this experience once again. We endeavoured to make the experience as realistic as possible to the actual theatre – complete with a range of tasty treats to enjoy during the show. All proceeds from the treats were donated to the Florence Bark appeal to raise her life saving treatment funds – this helped to make the day feel really special. A team of fundraising year 12 students helped to brand all the treats with #Bemorefab logos to help promote the appeal.'
Year 12 Diversity and Inclusion Leader, Isabel Offor said, 'We worked together with a small group of volunteers and effectively executed sales of the sweets for lower school before their viewings of the theatre production. Charity opportunities provide a great chance for us to give something back to the community, particularly this opportunity where we are working towards changing a single girl's life.'
Year 12 Maddie Moxey said, 'What a pleasure to be involved in something so incredibly special for such an inspirational, young girl! I feel lucky to be one of the many faces behind Florence's #Bemorefab campaign.'
Mrs Fitzjohn concluded, 'Our intention was to engage our students and ignite a desire and passion for literature and theatre whilst having a really enjoyable and well deserved end of year treat. We hope that we can have more performances at Brooke Weston and provide more opportunities for our young people.'