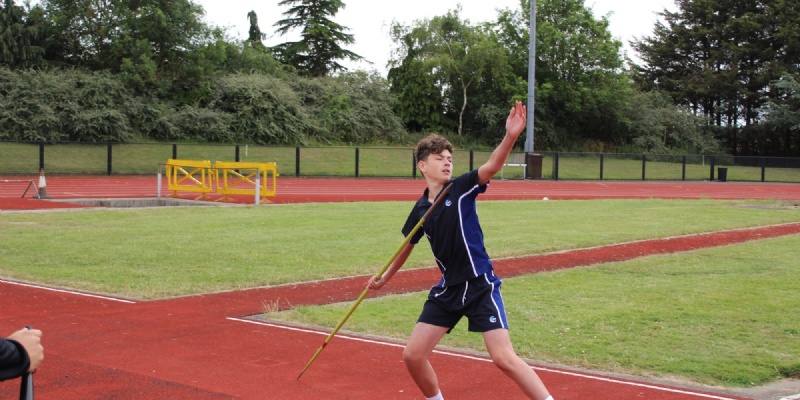 Brooke Weston Academy was finally able to hold its annual whole school sports day, at Rockingham Triangle Sports Stadium, after a two year hiatus, with students competing in traditional track and field events which saw a number of students breaking our previous school records.
Tutor groups also competed in the finals of a closely contested tug of war event which saw 7B, 8W, 9S and 10T victorious. Congratulations to the overall winning tutor groups of the track and field events: 7B, 8W, 9T and 10R.
The last event of the day was the highly anticipated annual teacher's 4x100m relay race, a hugely competitive event, with the PE department taking gold, followed by a silver for Humanities with the English department in bronze position.
Head of PE, Jodie Bellamy said, 'Sports day 2022 was an amazing day for all students and staff that attended. It was a great atmosphere, especially after a two year absence due to the pandemic. Students took on all athletic events from long jump, to high jump, 100m and 1500m to name a few. Every tutor group had an attendee in each event and the scores were very close when track and field events were added together. I just wanted to say a huge thanks to everyone who helped at sports day, it doesn't work unless everyone from stewards to event marshals are doing their job. It was great to see so many students taking part and fingers crossed we can break even more records next year!'
Year 7

800m

O Sendeca

3.12

2022

1500m

A Farrell

6.57

2022

Shot

B.Burnett

8.5

2022

Javelin

C. Hill

21.35

2022

Discus

M.Gardner

17.8

2022

200m

D ofuri

29.78

2022

1500m

B Bennett

5.1

2022
Year 8

800m

K.Hooker

3

2022

1500m

K.Hooker

6.17

2022
Year 9

800m

M.Ganchv

2.42

2022

Shot

V.Ogumqabsola

7.6

2022

Discus

M.Jennings

17.8

2022

High Jump

D.Carmichael

1.14

2022

Shot

J.Spencer

12.05

2022

Long Jump

N.Aikins

5.17

2022

High Jump

H.Brandrick

1.5

2022
Year 10

800m

V.Wyatt

2.57

2022

High Jump

H.Dent

1.52

2022

1500m

H.Dent

4.46

2022