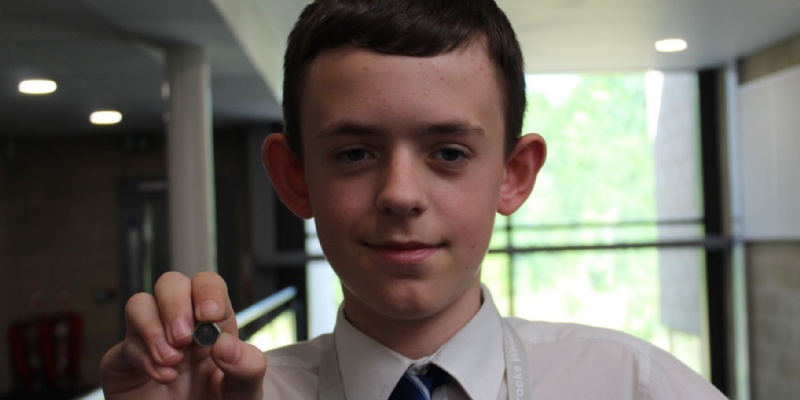 Year 8 student George Parker, explained to his tutor group all about a project that his father has been working on to make a tiny capsule to contain samples of DNA; in the form of hair follicles, which will be launched into space to land on the moon's surface later this year.
George brought in with him a development capsule, minus the lid, to hand round to students which gave them an insight in to the scale of the capsule and how dense the material tungsten is.
Mr Parker, Managing Director at Solutek Ltd, was approached by space engineer Shaun Whitehead, who was involved in the engineering of the Beagle 2 Project; Mars Lander, to make the capsule with the purpose of containing DNA samples of important people in his life. The capsule is due to be launched on the first commercial moon lander, Astrobotic Peregrine and could become the first American spacecraft to land on the Moon since the Apollo program.
Mr Parker said, 'We were approached by a new customer to quote to produce 210 holes @0.5mm diameter in tungsten. I initially declined due to the difficulty of machining tiny holes in tungsten, especially drilling 0.5mm diameter holes 4.2mm deep. When he explained that he was the chief engineer of the Beagle 2 Project I was hooked and knew I would find a way to develop a process of producing the tiny holes! In each hole there are two hair follicles, even the Parker family are on board, including Arne the dog! The capsule is sealed with a tungsten lid which was secured in place by laser platinum brazing. We also engraved cryptic clues around the outside of the capsule with the plan that they can be interpreted by anyone in the future, without the need for language, and they are essentially clues to a treasure hunt that will lead the future finder to a location on Earth. At this location, a twin capsule will be buried, containing the names and passenger compartment locations of everyone on board.'
'Shaun Whitehead is a great role model and proof that you don't need to limit your imagination. As well as being a rocket propulsion engineer, he has been involved in producing tiny robots and drones for looking inside the pyramids; keyhole archaeology! Some of the projects he is involved in is what you would describe as science fiction, except that it isn't fiction.'