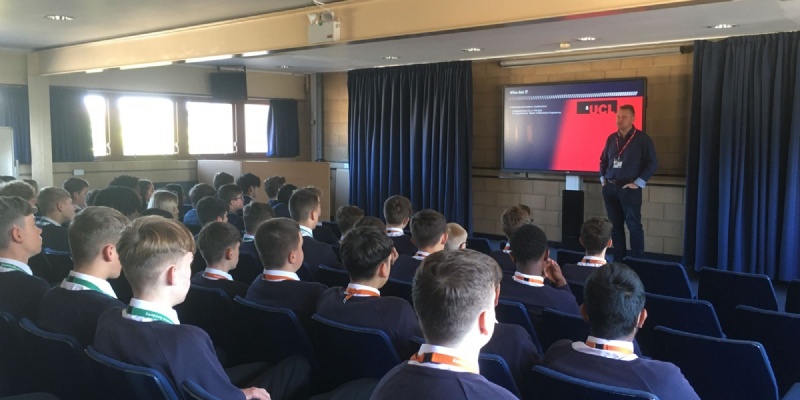 Technical Director at Red Bull Powertrains speaks to our cohort of engineering students.
Brooke Weston Academy was delighted to welcome Professor Ben Hodgkinson BEM, Technical Director at Red Bull Powertrains (RBPT), to speak to our cohort of engineering students; as well as students from Corby Technical School, about his career in the engineering industry.
RBPT is a Formula One (F1) power unit manufacturing company, formed in 2021, to take over the operation of F1 power units developed by Honda from 2022 onwards, following the Japanese manufacturer's withdrawal from the sport. Before joining RBPT, Ben was the head of mechanical engineering at Mercedes AMG High Performance Powertrains, winning eight F1 titles in 2001. He is currently training the next generation of F1 Engineers at the Red Bull Academy where they put forward a constant stream of brilliant ideas, and are able to manufacture those ideas rapidly within their state-of- the-art facilities. It was the pace of this development, which brought Ben and his team, to the attention of the UK Government during the start of the COVID 19 pandemic.
Ben explained 'there was a huge shortage of specific ventilators for COVID patients, so we were invited to help to produce 10,000 ventilators. Within a matter of days, our team managed to research, design, prototype, and test a workable ventilator that we presented to the NHS. We also shared our work online to hospitals around the world, so they too could make the ventilators.'
It was for this specific work that Ben was bestowed a British Empire Medal (BEM) in 2022.
Ben spoke to our students about the importance of working hard and admitted that he wish he had worked harder at school, particularly in the Sixth Form, but it wasn't until he was at university that he really understood the importance of education. He also outlined the different routes into engineering such as University or Apprenticeship. Red Bull currently have an apprenticeship programme for any budding CAD Technicians, Composite Engineers; CNC Machinists; Accessory Technicians; Electronic Engineers and is very keen to promote more young female engineers to join F1.
The visit was organised by BWA Design Technology Teacher, Gareth Van Wyk, who hoped it would inspire students to pursue a career in the engineering sector.
He said, 'It was a fantastic opportunity for our students and a privilege for our school to host such a high-profile speaker. Ben signed an F1 Red Bull shirt for us to hang in the DT department which was a wonderful gift and memento of his visit.'