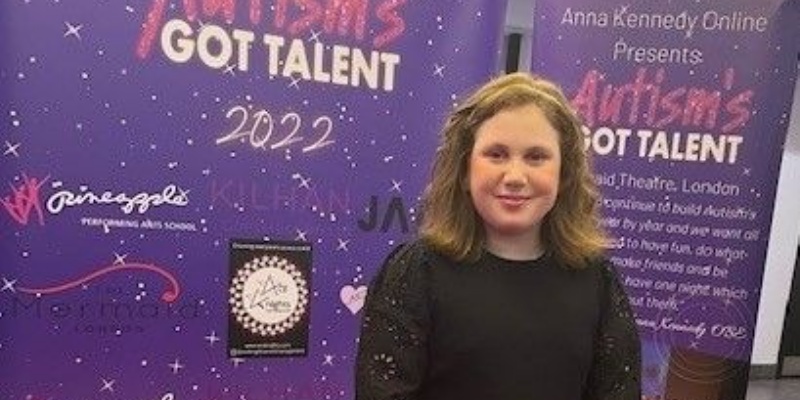 Eilish Smith performs at Autism's Got Talent 2022 in London
Talented singer Eilish Smith, Year 8, performed a beautiful rendition of 'Quiet' from Matilda the Musical, in front of a live audience at the Autism's Got Talent 2022 show, which was held at the Mermaid Theatre in London.
Over 200 acts from across the UK and overseas auditioned with only twenty performers chosen as finalists to attend the live show in London. The event took place over two days with an opportunity for the finalists to familiarise themselves with the theatre and each other prior to their big performance to ensure they felt comfortable and confident.
There were a number of special guests present, including actor Gary Webster, best known for roles in Eastenders and Minder. Messages of encouragement were also received from vocal coaches David and Carrie Grant.
Eilish, who attends LW Theatre School said, 'Matilda and School of Rock are my favourite musicals and the song Quiet holds a special place in my heart as I can really relate to the words and their meaning. It was amazing when I heard I had been selected as a finalist. It is the biggest audience I have ever performed in front of, and I was quite nervous, but we were all very well looked after. I would love to have a career in musical theatre and my aspiration is to perform on stage in the West End.'
Autism's Got Talent is an annual event, which is promoted as a showcase of autistic talent as opposed to a competition, and is growing in popularity each year. It has firmly cemented its status as a leading charity and autism event and charity founder Anna Kennedy OBE, started the Autism's Got Talent event eleven years ago.
Eilish's mum, Mrs Smith said, 'It really was a wonderful event to watch. The audience of over six hundred people had an amazing night; the talent was exceptional, and the atmosphere was one of true acceptance and celebration. I know Eilish hopes she will get the opportunity to take part in future talent events and shows connected with Anna Kennedy and Autism's Got Talent'.