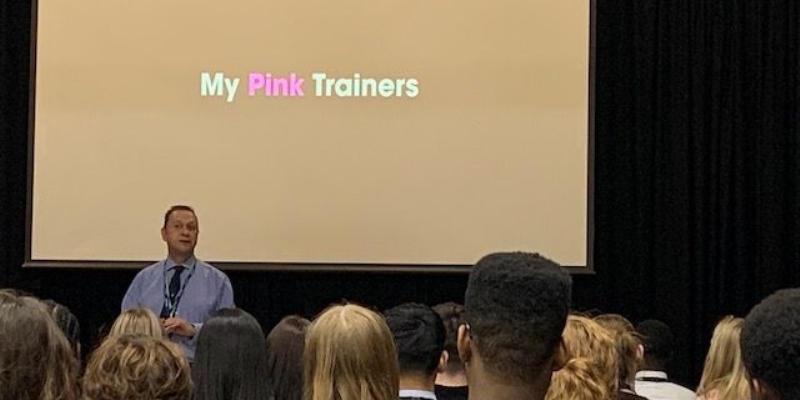 My Pink Trainers Road Safety video launched to our Sixth Form students
Keith Millard, Senior Road Safety Officer at Kier Highways, visited Brooke Weston Academy to launch the 'My Pink Trainers' road safety video with our Sixth Form students. Keith was representing the Northamptonshire Safer Roads Alliance (NSRA), a partnership between the Police, Fire and Crime Commissioner, Northamptonshire Police and Fire and Rescue Service and Kier Highways, who are all committed to improving road safety in Northamptonshire.
Keith said, 'For the past 10 years we have delivered 2Fast2Soon to Year 12 students and, although it is still powerful it needed to be updated. Young drivers aged 17 -24yrs represent only about 9% of the driving population, but around 20% of all road deaths are in this age group. We managed to secure funding to produce a new film and following research with young drivers across Northamptonshire, we based the presentation around an actual road collision in Northamptonshire, where a young person tragically lost their life. It shows how making a simple mistake or error of judgement can have catastrophic consequences for the driver and their passengers.
'Brooke Weston Academy have been a huge help to us with this project. We piloted the film at the school and the feedback from the students has been invaluable to the finished presentation. I would like to thank the staff and students who participated in the session and shared their thoughts on the film and the delivery of the discussions. We were impressed by the levels of maturity and interaction amongst the students.
'My Pink Trainers will now be offered to all schools within the county, and we hope that it will help young and new drivers to make better informed decisions when they are out in a car. Furthermore, we hope that there will be a realisation that it very easily could happen to them, and that they are not invincible.'
Reflecting on the safety video, Marvin Camara Year 13 said, 'The My Pink Trainers video was especially well put together, and it was quite emotional as it showed scenes from the night of the car crash and how the passenger who died was identified by her pink trainers.'
Year 13 Laura Chirchir said, 'I felt that the road safety session was very impactful. It helped me to realise that road accidents can happen to anyone and that it can take a split second to lose control of a vehicle. They said that a driving licence does not necessarily equal experience. I think this quote will stick with me when I eventually pass my driving test.'
Year 13 Grace Norman said, 'I think through watching TV and the media, we have become very desensitised to forms of accidents, yet the 'My Pink Trainers' video completely changed my perspective and was in fact very emotional; something that I think is important when discussing the seriousness of safety on the roads. To see a real-life example, and especially the accident being so close to home, it made me step back and really think about how this can happen to anyone. Even hours later after the talk it has stuck with me and made me reflect on the importance of awareness and safety when driving. Although some parts were hard to watch, the video exposes those realities of driving, and I hope it shows other young people the impact one wrong decision can have.'