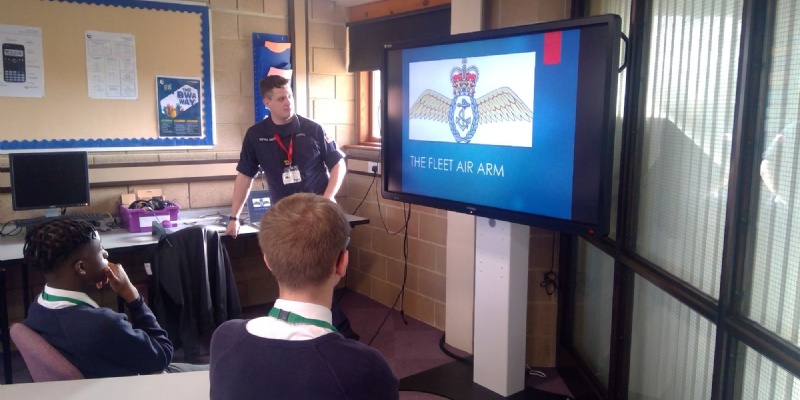 Former BW student Adie Harris gives insight about careers in the armed forces
Former Brooke Weston student and Air Engineering Technician with the Royal Navy, Adie Harris returned to BWA to lead military-style mock interviews and talk to some of our students about careers in the armed forces.
Adie left Brooke Weston in 2016 following his GCSE's, and his visit was a great opportunity for our students to hear about his route and progression in the Royal Navy. He joined the cadets while at school which gave him the skills, values and attitudes to go further in life, and after visiting the local Armed Forces Careers Office (AFCO) they were able to advise him on the best roles with the Royal Navy for his skills and ambitions. He is currently a mechanical engineer with the Fleet Air Arm, working mainly on Wildcat helicopters, which are the latest generation of multi-role helicopters, specifically procured to operate from the frigates and destroyers of the Royal Navy. Adie demonstrates true passion for his role, describing the Royal Navy as "family that will help you be the best version of yourself".
He spoke to the students about the application and recruitment processes he went through which included interviews as well as medical and fitness tests and Royal Navy psychometric tests. He also talked about his personal journey in the Royal Navy and the opportunities that were available within the structure of the Royal Navy.
Year 13, Grace Norman said, 'The mock interview gave me an insight to the generic questions that are typically going to be part of a military-style interview. The feedback Adie provided was really useful and has helped build my confidence in making an application to the RAF.'