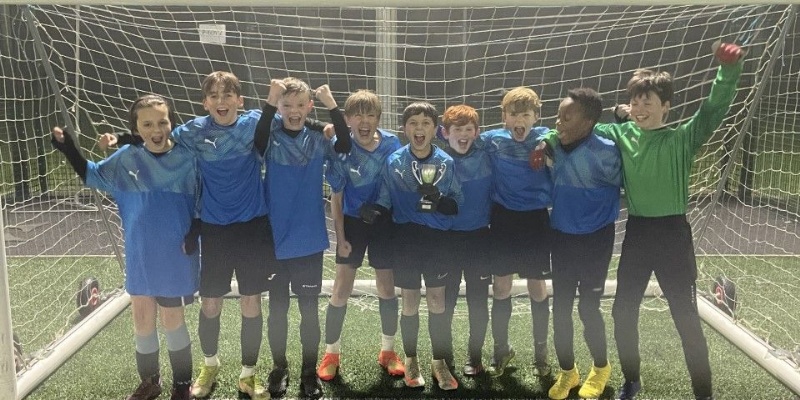 Football has come home as the Year 7 boys team are crowned County Champions for the second consecutive year
Congratulations to our Year 7 boys football team, who after being crowned District Champions for the fourth consecutive year, went on to compete in the County Finals and tested themselves against the very best from Kettering and Corby.
It was a closely contested competition with BWA opening with a game against local rivals Kingswood in what was a very tight affair, with Harvey-Jay Milne rifling home a goal to give BWA a 1-0 win. The boys then battled hard to a 0-0 draw against an old rival in Bishop who had not lost a single game in their Kettering district matches.
The key game came against the hosts Latimer, who were cheered on by the home support. However, Kian Lawson had other ideas and silenced them with one composed swing of the right boot giving a 1-0 win to BWA. The boys then dominated when up against KBA but were unable to find the back of the net, which led to a 0-0 draw.
The final game was against Prince William, and to be crowned County Champions, BWA needed to avoid defeat, with Prince William needing a win to secure first place. A rallying team talk got the boys fired up for what would be the biggest 10 minutes of their very early footballing careers. The final whistle went at 0-0 and BWA were crowned champions of Kettering and Corby!
Ash Narwal, Deputy Director of 6th form and PHF teacher said, 'It was a closely contested competition and the conditions were near freezing - but it was Brooke Weston bringing the heat in the epic finale! Brody and Harvey were solid at the back, Toby was a monster in midfield and Kian was causing havoc up front. They never conceded a single goal and were absolutely brilliant throughout. They will now progress to the regional finals to represent Northamptonshire against the other county winners.'
Congratulations to the Year 7 squad:
Josh Bell Patrick (7K)
Kian Lawson (7K)
Brody Barnard (7W)
Harvey-Jay Milne (7W)
Toby Gaffney (7W)
Kudzi Chembe (7W)
George Conway-Keen (7S)
Freddie Barnett (7S)
Grayson Cotton (7T)
Harry Ambery (7T)