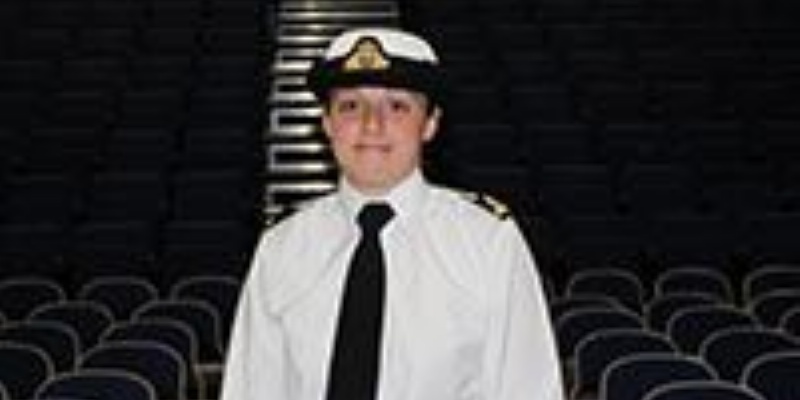 Former student Sub Lieutenant Emma Turner returned to Brooke Weston to give a presentation about life within the Navy and advise any students interested in a career in the armed forces.
Emma, who left Brooke Weston in 2015 talked about her experiences so far within the Royal Navy and the opportunities that are available within the the military. She said 'I only decided to apply for the Navy at the last minute as I realised university wasn't for me. The opportunities I could gain from joining the Navy, were just too good to miss. I already have a degree in Management and Leadership after only one year and I have also qualified as a Ski Instructor which the Navy paid me to do during my two week Adventure Training which we have every year. To join the Navy you need to be a logical thinker, a team player and a natural leader, someone that can take charge when things are going wrong. People in sports teams are often really good examples as they have been used to working as a team so think logically and tactically. I was always into sport when I was at Brooke Weston, which I think, stood me in good stead.
'Brooke Weston offers so many opportunities that can help students if they are thinking about a career in the military. They dedicate a lot of time to playing sport and offer schemes such as the Duke of Edinburgh, which promote fantastic qualities for the Navy. If you are good at something here then you are always encouraged, as they want you to succeed.
'The best part about joining the Navy is the commaradary you experience, you are always with a group of people and make life long friends.'
Emma also helped to run a workshop aimed at high ability students working on team work and problem solving which was based on one of Emma's Navy training tasks. The theme was desert island and involved both Year 9's and 10's building a raft out of wood and plant matter that would cross 'the sea' holding 50g of food for the journey. One of the team members had to also make a flare, from a video they had only seen once.
Students worked in small teams to build the most successful raft and flare and Emma chose the winning team, Hope Naisbit, Nathan Ngo and Isabella Summerfield-Jones.
Principal Mr Kirkbride said 'We are continuously speaking to students about visualising their future and making sure that they work to the best of their abilities in their lessons and exams as it paves the way for their future and so there is nothing better than someone who has been on the same journey as them through Brooke Weston coming in to advise them about their careers. Emma has done fantastically well in her career so far and it shows the students what it is possible to achieve in a short space of time if you put your mind to it and that particularly with the armed forces, you can make a difference to people's lives.'
Emma said 'My advice to anyone interested in a career in the military would be to go and speak to someone in the career office because even if you are just a little bit interested then you are the right type of person.'