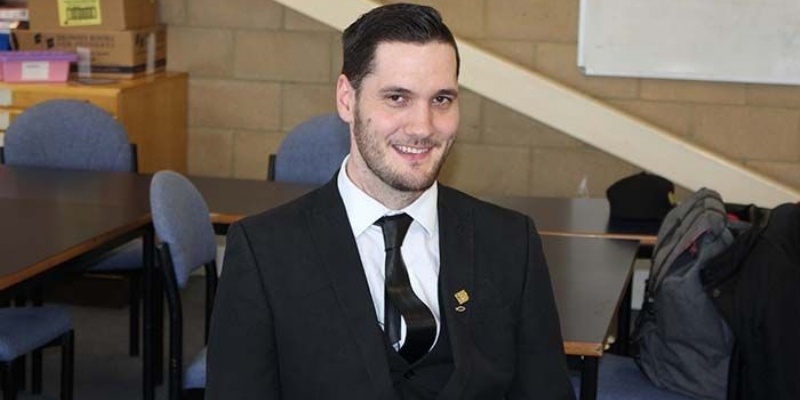 Brooke Weston Academy's computer science teacher Ray Chambers has been announced as runner up along with eight other finalists and the only teacher from the UK in the global teaching competition to find the best teacher from across the world.
More than 20,000 nominations from 179 countries were received for the Varkey Foundation Global Teacher Prize. The award, now in its third year, is the largest of its kind with the winner receiving a prize of US $1m.
All of the ten finalists from across the world were invited to attend a ceremony at the Global Education and Skills Forum in Dubai where they attended workshops and master classes and the winner Maggie MacDonnell, who teaches in a fly-in Inuit village in the Canadian Artic was announced by an astronaut in the International Space Station.
Although narrowly missing out on the big prize Ray took his love of Irish Dancing to the red carpet and danced his way up it, he said 'This has been an amazing experience and one that has really humbled me. I'd love to use this platform to promote teaching as we need more teachers and it is such a fantastic job.
'Someone said commiserations to me, but no way! I have made so many friends from all across the world and learnt so many new things. I have become really good friends with the winner Maggie since our time here and we're going to try and get a project going between our communities. This has been an incredible time and I'm over the moon that I've had this experience. The hospitality of all of the team at The Varky Foundation has been amazing and I will never forget it.'
Mr Chambers, who was nominated by an employee from Microsoft, entered teaching nine years ago by accident as the result of a last-minute computer science degree placement, and found that he loved it.
At that time, ICT teaching was fairly traditional, so Ray started developing new software for learning using Microsoft Kinect. This developed into a blog, then a project with other teachers, and he was invited to Portugal to present it on a global scale.
His computer science YouTube education channel has had over 250,000 views. In 2013/14 won the Microsoft Innovative Expert Educator award.
In 2015 he received the UK national teaching award for innovative use of technology, and in the same year he won the YGC (Young Games Designer) mentor BAFTA. He has also recently featured on the BBC programme Click, along with students from Brooke Weston.
The Global Teacher Prize was set up to recognise one exceptional teacher who has made an outstanding contribution to the profession and highlight the important role teachers play in society. By unearthing thousands of stories of heroes that have transformed young people's lives, the prize hopes to bring to life the exceptional work of millions of teachers.
The finalists for this year's Global Teacher Prize were from every corner of the world, from the Canadian Arctic to Kenya and Pakistan. But there's one thing they all have in common, they spark curiosity within a child and nurture the dreams that can change our world for the better.