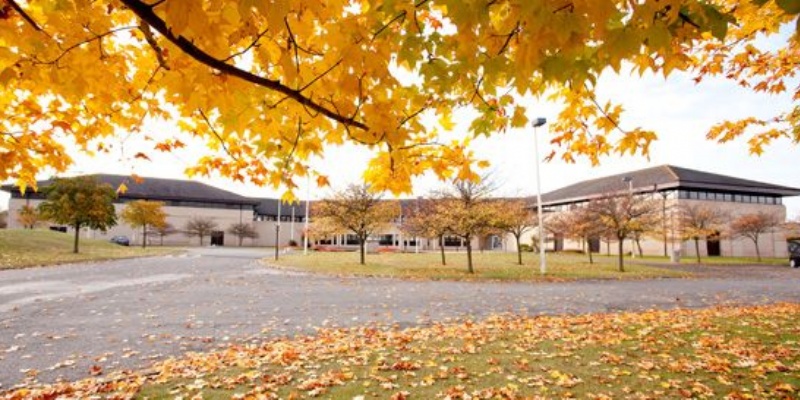 Explorer and adventurer George Bullard is a world record breaking explorer and endurance athlete who has covered more than 2,000 miles on foot in the polar regions. He has spent more than 10 per cent of his life under canvas and, most recently, kayaked from Greenland to Scotland.
At the age of 19 he completed the world's longest fully unsupported polar journey, a feat that exploere Sir Ranulph Fiennes described as 'genuinely groundbreaking.' As well as polar exploration he has taken part in the Transatlantic race, led youth development programmes in the Amazon and facilitated research expeditions in Antarctica.
During his 20 minute presentation to Brooke Weston students at this year's Prize Giving he said: 'I am nothing more than a guy who has been lucky enough to visit some of the most beautiful parts of our planet. I have been doing expeditions now for almost 15 years. A couple of weeks ago Ollie Hicks and myself did something that potentially no human had done before and I spent most of my time grunting and swearing as we kayaked 1200 nautical miles, which is approximately 1,500 miles across the north Atlantic. This is a story about endurance. The expedition took 66 days to complete and we landed the Sunday before last on Balnakiel Bay on the north coast of Scotland. It involved going via five different islands across the north Atlantic. As camping trips go this was a long one!'
The kayak they used had to be adapted for the two very different heights of the rowers and, once onboard, they lived and slept on it: 'You can't stand up, you can't move around, you can't move. I had been planning the expedition for five years, we got some funding from some companies who were excited about what we were trying to do, it was a proper world first. Our first crossing was 200 miles. It took us 46 hours and we were fully self sufficient and fully self-supporting on this expedition. The distance between the top of the water and where the water starts coming into the boat was about two inches so it is an exceptionally wet boat. If you are looking for a fun summer holiday I can recommend not to do this!
'Once in Iceland we did the following 600 miles around the north eastern coast; hopping between landmasses and camping on the beach as we went. We would see people and have a chat with them about the expedition. Then the best bit came – the Devil's Dancefloor. The clue is in the title. We had a weather window, an accurate forecast of about three to four days and you are so vulnerable in the kayak. As soon as you get beyond the three or four days of weather forecast it becomes hugely changeable and that is what the Devil's Dancefloor did for us, it became very changeable. This is a 260 nautical mile crossing, about the same as going from London to Manchester, and you have to paddle it. We had three days weather window and we got absolutely smashed. We were paddling along and suddenly two big breakers came over the top of the boat.
'Then we got to the Faroe Islands and kayaking is a national sport. At 3am in the morning ten of them came out to greet us on the beach. Just to know that there is someone else out there who knows what you are doing is hugely rewarding. We left the Faroe Islands and had another 200 miles to go to get to mainland Scotland. On the way is an island called North Rona, there is no running water or food there and Ollie and I got stuck there for the best part of a week. I hadn't lived with someone that closely for that long and been so hungry. We had to catch some of the local wildlife, we ate limpets, skuas, we had seabird curry one night, and fulmar and gannet was our main source of food. For drinking water we had rainwater. These expeditions take years to produce and develop and then suddenly you end up on the beach at Balnakiel with the whole expedition behind you and all that was there to greet us as we came in was a herd of cows!
'If you leave here forgetting everything that I said I want you to remember just this: A stands for ambition and I know, having spoken to lots of different people about expeditions, in general we all have an ambition to do something with our time on this planet. Working in nuclear science, spending time on a kayak in the north Atlantic or becoming the next great Linford Christie … we all have an ambition to do something ... B is for bravery. Certainly with these projects it takes a little bit of courage to stand up in front of your friends and family to say 'The next thing I am going to do is kayak across the north Atlantic'. You had to have the courage to say 'This is what I am going to do.' Go and do it. C is for Carpe Diem – seize the day. If you are ambitious, brave and you realise that today is the day that you take these opportunities.'