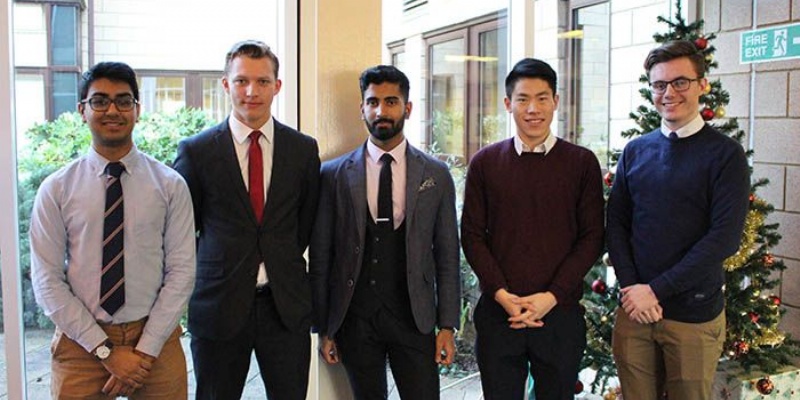 Five former students, who are all now studying at Cambridge, spoke to our current Sixth Formers about university life and the transition to graduate study.
Kiran Joshi, George Robinson, Gautham Kumar, Callum Ward and Victor Ho are in their second year at Cambridge studying physics, maths and medicine. They spoke about the transition from A level and urged students to aim high in their applications.
Victor said 'The most important thing is that you can achieve more than you might think, I wasn't sure I should apply to Cambridge as I didn't think I would get accepted. In hindsight it's important to recognise at an early stage what you want and aim high.'
They described the difference between school and university with less teaching time and the need for good time management and independent study. They also emphasised the importance of being passionate about your chosen subject and how extended reading and research can be extremely beneficial, both for interview and for coursework.
Callum said 'If you are aspiring to go to Cambridge or any university find something that you are really passionate about. That's pretty much the only secret because otherwise you won't enjoy your course or your time studying. Take the time to do research so you can demonstrate your knowledge and passion during your interview.'
The group returned to Brooke Weston to help Sixth Formers understand university living and the application process. Kiran said 'Applying to university can be quite a daunting process. No one in my family had ever gone to uni which inspired me to work even harder to ensure I got into the best university possible. People from all sorts of different backgrounds can and should go to university. I have worked within schools as part of a university scheme to advise and help students.
'It is important that students receive access to ideas that they might not have thought of, such as going to a higher level university as this will give them inspiration to work hard to make a better lives for themselves.'