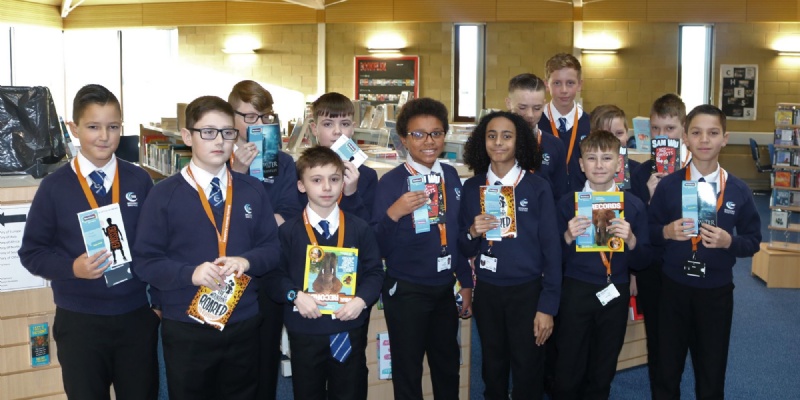 All students in Year 7 at Brooke Weston Academy will receive a free book from the Library as part of the Bookbuzz programme.
Bookbuzz is a reading programme from Book Trust, which supports schools to encourage reading for pleasure and develop a whole school reading culture.
Students were given the opportunity to choose their own book from a choice of 15 titles to take home and keep. The books were all selected by a panel of experts, including teachers and Librarians, and designed to appeal to all students regardless of their reading level.
Titles available this year included 'Armistice Runner' by Tom Palmer, who visited students at Brooke Weston in July 2018. 'Jelly' by Jo Cotterill who also paid Brooke Weston a visit back in February 2017. 'Cyborg Cat' by Ade Adepitan, the international Paralympic wheelchair basketball player and co-host of Children in Need. 'The Crossover' by New York Times bestselling author Kwame Alexander who recently entertained Trust students when he paid a visit to Corby Business Academy last month.
The most popular title this year was 'Still Water' by Chris Priestley, a chilling tale of friendships gone wrong, ghosts and revenge.
The scheme, has been running for several years at Brooke Weston Academy. Librarian Wendy McCabe said 'The Bookbuzz programme helps to encourage a positive attitude towards reading. Even though students can borrow books from the Library, to own a book is extra special and to see the excitement on their faces when they open their gift is truly a wonderful moment.'
All of the Bookbuzz books are available to borrow from the Library and in Term 4 a competition will be launched for Year 7 students to write a review on their chosen title and be in with a chance of winning the other fourteen Bookbuzz titles.
To see more photographs click here.