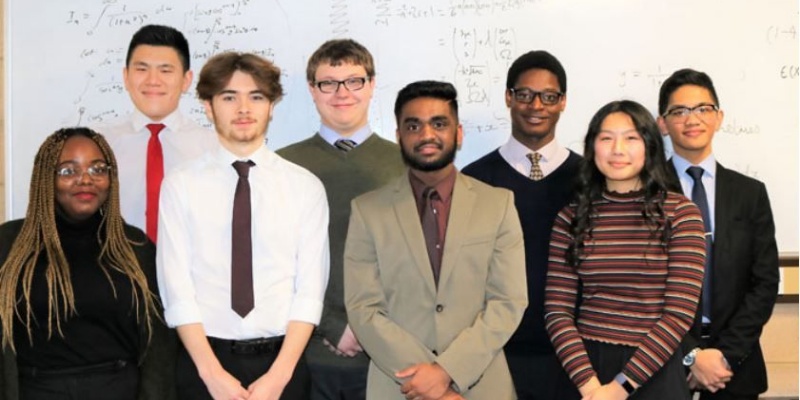 Our talented mathematicians are taking part in after school sessions to help them prepare for interviews and STEP tests at top universities.
The group of around 10 students, is working with Dr Chris Luke, from the University of Northampton as part of the Government-funded Advanced Mathematics Support Programme. As well as instructing students on advanced maths problems, he also has conducted mock university interviews so they are fully prepared and confident.
Brooke Weston Academy's Head of Maths, Ben Johnson, said: 'Dr Luke delivers a programme for some of our most gifted mathematicians. He has helped many students who have aspirations to attend Oxbridge and many of them have been successful in their applications. He stretches our students' knowledge with some exceptionally hard problems. He is working with them through the STEP maths entrance test which is very tricky and which our students will sit in the summer, at the same time as their A Level exams. These two hour sessions are also attended by students from Corby Technical School and Kettering Science Academy, who are also working at a very high level in maths.'
Tapuwa Chitiga said: 'Dr Luke has given me an insight into what university maths will be like. We have had to consider a whole lot of topics and use our knowledge on increasingly hard problems. I started doing these sessions about 18 months ago in Year 12. I am hopefully going on to study mathematics at UCL.'
Reuben Retnasingam said: 'The tutorials get harder each time and lead into problem solving. I am planning to study maths at the University of Lancaster and I'd also like to go into maths research eventually.'
George Tysoe has been offered a place at Cambridge to study maths on a three-year degree course. He said: 'Dr Luke has gone over some challenging maths questions and problem-solving and he gave me a mock interview which was very helpful as the questions were challenging. I had that a week before my Cambridge interview and it really helped and made me a lot more prepared.'
Dr Luke said: 'The purpose of sitting mock interviews is to give students a taste of the experience they are likely to meet in an Oxbridge interview. I have built up a lot of experience of preparing students for applying to Oxbridge in maths, engineering and physics. I draw also from my own experience of sitting a Cambridge interview and from taking to a lot of contacts at the UKMT, some of whom interview candidates themselves.
'Conducting a mock interview is a delicate balancing act. The questions must be challenging enough to make the exercise meaningful, but candidates should leave the interview feeling more confident. So, I focus on giving the students plenty of support and encourage them to express their thoughts verbally and of listening carefully to hints given by the interviewers.'