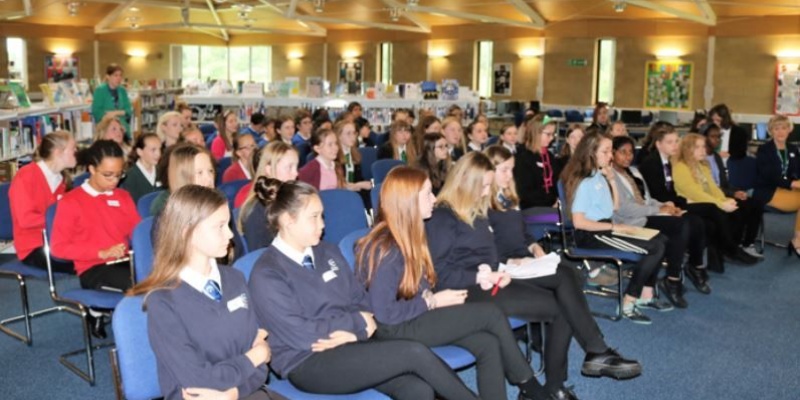 Six Trust schools attended the Carnegie Shadowing event at Brooke Weston Academy where students met to discuss this year's shortlisted titles and vote for their favourites.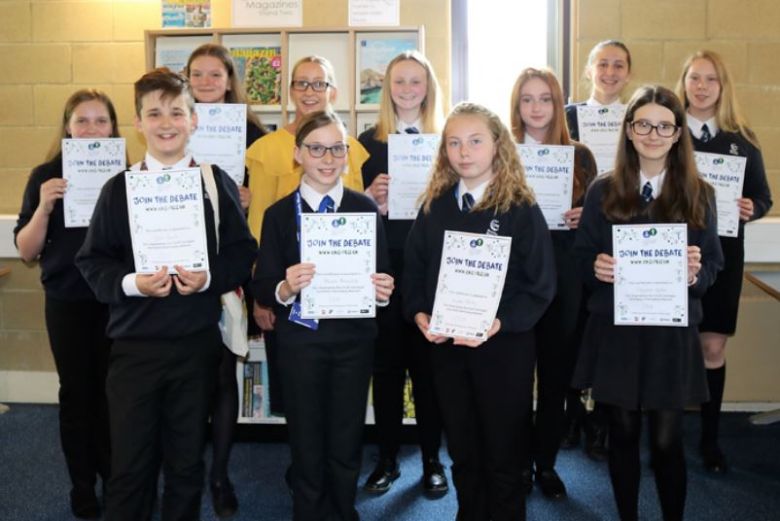 Students from Beanfield and Oakley Vale primary schools and Brooke Weston Academy Corby Business Academy, Corby Technical School and Kettering Science Academy attended the event at BWA.
They were split into teams and took part in a quiz before CBA Librarian Amy McKay spoke about some of the best young adult fiction available at the moment. Then students got up in front of the audience to 'book push' arguing convincingly for which title they thought should win the prestigious Carnegie and Greenaway awards. The votes were cast and 'The Day War Came' won the Greenaway prize for illustrated books while 'The Poet X' had most support in the Carnegie fiction category. The actual results will be announced at lunchtime today (18 June 2019). Prizes of goody bags of books were handed out to students from each school who won the quiz and also those who were judged to have presented the best argument for their chosen book.
KSA Librarian Heidi Economou, who brought along Year 8 students, said: 'It was amazing, my group has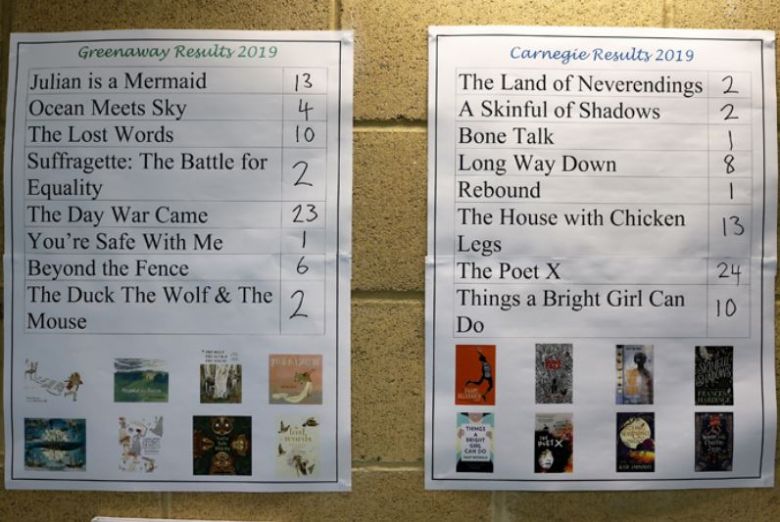 been really eloquent and really enthusiastic about the books and they have been recommending books to one another. That is what Carnegie is about. The girls are all in the reading group at my school and this year they have had lots of other commitments so the fact that they have managed to do this is really good. We meet on Thursdays in tutor time and at breakfast and after school as we are all like-minded and like sharing books all the time anyway. Realistically this year they have bonded more with the Greenaway books. For the Carnegie winner my tip is Long Way Down and Over the Fence for the Greenaway, or maybe Ocean Meets Sky as the illustrations are beautiful. I have loved it, it has been a good year for the Carnegie-Greenaway awards.'
BWA's Librarian Wendy McCabe said: 'We have about 60 students here and I know in my group there have been lots of interesting opinions about the books. There is always some lively debate about which book should win and this is a great way of getting students reading and talking about the latest titles.'
CTS's Librarian Jodie Kidner brought along nine students from Years 7 and 8. 'It is really good event, our students are enjoying it. These are members of our special Carnegie shadowing group but a lot of them are in the book club as well. It is tough to predict what may win this year as there are a lot of good contenders.'
Thanks to the librarians Wendy McCabe and Tom Holton for organising the annual Carnegie shadowing event which is always very popular. The winners of the Carnegie-Greenaway awards will be announced at The British Library this lunchtime (18 June).