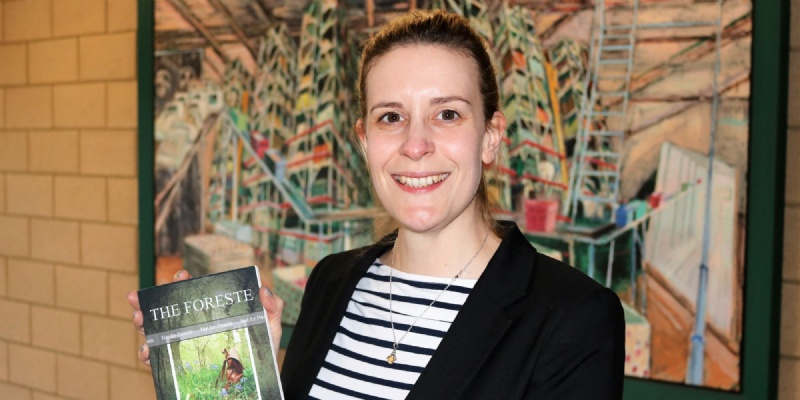 Brooke Weston Academy's business teacher Sarah Donlevy has published her first book, a teen fantasy, featuring fairies Shadow and Dillan and their quest to save their homeland, the Foreste, and its creatures from an eternal sleep.
She began the novel at university, but work and family life took over for the next decade. By chance she found the manuscript again and vowed to finish it.
She said: 'I had been thinking about the characters and wanted to see if I was capable of seeing this through to the end. It took me hundreds of hours, alongside my full time work and family life so I got up at 5am to write for an hour and would do another hour in the evening.'
Once finished Sarah sent the book to literary agents, and when she got lots of supportive comments but no book deal she decided to go down the self-publishing route: 'I thought I don't want this to just sit on my laptop as I spent such a lot of time writing it and poured so much creativity and thought into my characters, so it is a thrill to finally have the completed book in my hands.
'It features a main character, a human-like fairy creature or Poyl, called Shadow. She has left school and can now use magic but she has absolutely no confidence. She gets thrown into a journey to save the Foreste with her best friend, Dillan, who is cheeky and two years younger.'
Sarah has planned all six books in the series and is now working on the sequel.
She said: 'There are lots of clues in the first book about the following ones which is really exciting and is what motivates me. I have gained a lot of confidence and knowledge through the writing process, as well as the editing, formatting and publishing. I also designed the cover which features bluebells as they are quite significant in the book.
'I am creative, analytical and organised and my background in business, marketing and advertising will be invaluable in promoting the book. It has been a big learning curve getting this far. My husband has been 100 per cent supportive and I will read it to my children when they are old enough. I am lucky that I have never had writer's block, as soon as I get started in a writing session, I can't stop. At times I have wondered about this path that I have started on but I didn't want to look back when I was an old lady and regret not finishing it.
'My advice to would-be authors is just to start. Write something every day. Read around your subject and I also joined a supportive writing group on Instagram. Keep going and believe in yourself. Dedicate the time and it will be worth it.'
Sarah's novel 'The Foreste: Shadow Godley-Sprite can be purchased from Amazon at £7.99 for a hard copy or accessed free with Kindle Unlimited. There is also a copy available to borrow from the library at Brooke Weston Academy.