Brooke Weston Curriculum Statement
At Brooke Weston we provide an exceptional academic pathway for all our students, regardless of background, which is built on high expectations and aspiration. Our ambitious curriculum is knowledge rich and rigorous; time is carefully considered ensuring all learners engage with subjects across the Sciences, Arts, Humanities and Languages. The breadth in our curriculum opens doors for the future, fostering a passion for creativity. It develops critical and analytical thinkers, confident communicators and respectful, successful 21st Century individuals with a lifetime of opportunities. Sequenced coherently to truly take into consideration the connectivity of knowledge, students are empowered to develop a deep and rich understanding of their subjects and the world around them. Underpinned by our values of Excellence, Resilience and Ambition, together our staff and students strive to exceed the limits of their potential, building the foundation for their future. The curriculum is truly built around the question "is this good enough for my child?"
For further information regarding our curriculum, contact enquiries@brookeweston.org and our curriculum lead (Rebecca Waterson) will be in contact.
Curriculum Information
The student is at the centre of our curriculum model. We believe strongly that a 'traditional' curriculum for the majority of students provides the best currency to access university, apprenticeship or work successfully. The majority of students follow the Ebacc but, where appropriate, a bespoke curriculum is offered. P8 outcomes evidence the success of our curriculum. Class sizes are small with an average of 27 students
The Academy day is split into five 70 minute lessons with a 15 minute breakfast during period 1, and a 30 minute break for lunch during period 3 plus tutor and assembly time with electives on a Wednesday, when the school day ends at 3.30 pm. Students are able to stay after school from Tuesday and Thursday until 4.30 pm to take part in extra-curricular activities. The Academy is open 51 weeks of the year allowing students to access academic or student care support.
Key Stage 3
The Academy operates a three-year KS3 curriculum with students taught a broad and balanced curriculum in both mixed ability and banded classes. In year 10 students have the opportunity to tailor their curriculum in non-core areas, enabling them the opportunity for deeper academic study in their options. The curriculum is as follows: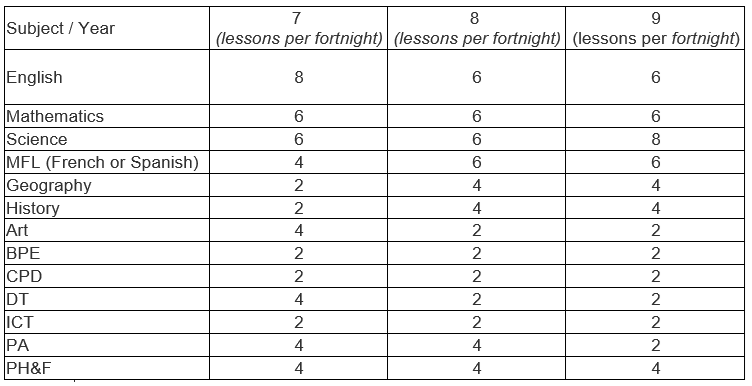 Key Stage 4
In KS4 over 75% follow an Ebacc curriculum, whilst a small minority undertake a personalised pathway. Additionally students select a range of options (19 optional subjects available). The curriculum is as follows:

Our total curriculum hours are 35.92.
Key Stage 5
In KS5 we offer 20 A Levels and 5 applied general subjects. In Year 12 students select 3 subjects and choose a pathway (indicated below). Where appropriate some students study 4 or 5 A Levels. Each subject has 4 periods per week and in addition in Year 12 students select a pathway of Core Maths, Financial Studies or Mentoring, and follow an IEC programme and can also opt into core physical education lessons. The curriculum is as follows: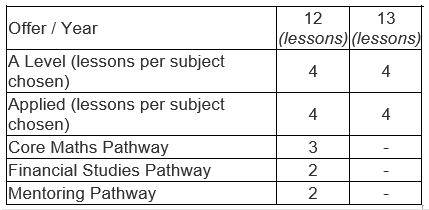 For more information download the relevant prospectus.